Arts of Asia Lecture Series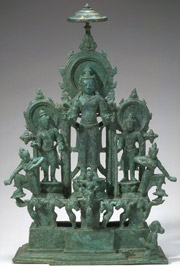 Arts of Asia Spring 2012: The Arts of Southeast Asia and the Himalayas: The Sacred and the Secular
When:
January 20, 2012

to

April 27, 2012
Fee:
$15 drop-in (no reservation needed)
Videos of the lectures are now available on the Asian Art Museum's Apple Podcasts. Click here to view the available videos from this lecture series.
Register now for the Arts of Asia lecture series and join us as we explore the art of Southeast Asia and the Himalayas. Featuring prominent scholars and curators from across the country, the fifteen Spring lectures will showcase many treasures of the Asian Art Museum and illuminate sacred and secular traditions from the steamy kingdoms in the east and south of India to the mountainous realms to the north. Some lecturers will focus on reigns and regions– including Burma, Cambodia, Indonesia, the Philippines, Thailand, Tibet, and Vietnam. Others will delve into cultural connections and religious traditions, including Hinduism, Theravada and Vajrayana (Esoteric) Buddhism. Common themes throughout the series include sacred space, belief and ritual practice, kingship and trade. This lecture series coincides with the second semester of a three-year training program for new Museum docents.
Lecture Schedule
January 20
Southeast Asia: Art, Culture, Connections Study Guide
Forrest McGill, Asian Art Museum
January 27
Royal Signs:  Kingship and Art in Early Southeast Asia Study Guide
Robert Brown, UC Los Angeles
February 3
The Road to the Four Mansions: An Introduction to Theravada Buddhist History and Teachings Study Guide
Justin McDaniel, University of Pennsylvania
February 10
Majesty and Intimacy in the Art of Ancient Cambodia Study Guide
Hiram Woodward, former curator, Walters Art Museum, Baltimore
February 17
Reflections on Thai Art: From the Kingdoms of Sukhothai, Lanna, Ayutthaya, and Bangkok Study Guide
Pat Chirapravati, Cal State University, Sacramento
February 24
Serving the Sacred and the Secular:  The Arts of Burma Study Guide
Sylvia Fraser-Lu, independent scholar
March 2
Angkor Wat Study Guide
Forrest McGill, Asian Art Museum
March 9 
Into the Archipelago: Early Arts of Indonesia Study Guide
Natasha Reichle, Asian Art Museum
March 16
Temple, Mosque, Court and Village: Later Arts of Indonesia Study Guide
Natasha Reichle, Asian Art Museum
March 23
Native and National: Art in the Philippines Study Guide
Corazon Alvina, Vice Chairman, Metropolitan Museum of Manila
March 30
Lightning Lineages: The Hidden History of Vajrayana Art in Asia Study Guide
Jeff Durham, Asian Art Museum
April 6
Vajra Visions: Decoding the Esoteric Art of the Himalayas Study Guide
Jeff Durham, Asian Art Museum
April 13
Southeast Asian Art, Artifacts, and Material Culture in Global Context Study Guide
Eric Tagliacozzo, Cornell University
April 20
Trans-Himalaya: Artistic Exchange Between Tibet and Late Imperial China Study Guide
Patricia Berger, UC Berkeley
April 27
The Local in the Global: Contemporary Art in Southeast Asia and the Himalayas Study Guide
Sandra Cate, San Jose State University
Registration Policies
The Society for Asian Art's cancellation policy requires at least one week's advance written notice in order to receive a refund of registration fees. This excludes our Travel programs, which have separate cancellation policies, as well as any programs where a specific refund policy is stated on the event page. Your fees will be returned to you through a check in the mail. To cancel, please contact us.
For programs located within the Asian Art Museum, the museum entrance fee must be paid separately and is not included with your registration fee.
Please note that by registering for a program, you are giving consent to the SAA to be photographed or videoed as a participant.