Arts of Asia Lecture Series

Arts of Asia Fall 2021 Crossing Boundaries: Understanding Contemporary Asian Art
When:
Repeats every week every Friday until Fri Dec 10 2021 except Fri Nov 12 2021, Fri Nov 19 2021, Fri Nov 26 2021. Also includes Sat Nov 20 2021.
August 27, 2021
Time:
Fridays, August 27 to December 10, 2021 10:30 a.m. to 12:30 p.m. Pacific Time except as noted. (No lecture on Nov. 12 & Nov. 26, 2021.)
Fee:
$200 per person Society members; $250 per person non-members for the series. No drop ins. Advance registration must be received by the SAA no later than August 20, 2021.
Advance registration is now closed. If you are interested in signing up by paying a late registration fee, please email the SAA Office Manager. Thank you.

What is going on with contemporary Asian art? What are its messages? Who is the audience? What are the concerns of the artists? How are they using new and traditional media? What are the ideas about art in these works? How might we understand new works?

Contemporary art is all around us. It may attract or repel us. Its messages and means may be new, but the imperative to communicate successfully is more urgent than ever in a global market of ideas. Contemporary art is often deliberately transgressive — it crosses boundaries between media, genres, geographic regions, traditions, gender identities, national identities, politics, ideals of beauty, and ideas of permanence. Many of the artists are émigrés, who must cross boundaries to make their art.

Join us for an adventurous journey into the realms of contemporary Asian art. Led by Abby Chen, Asian Art Museum's Head of Contemporary Art and Senior Associate Curator, this lecture series features 14 scholars, curators and artists from around the world, who will address contemporary art practices and concerns across Asia and the Asian diaspora.
Speakers & Topics (Subject to Change)
August 27, 2021
Finding Your Way in the Wide World of Contemporary Asian Art Study Guide Additional Resources
Abby Chen, Head of Contemporary Art and Senior Associate Curator, Asian Art Museum of San Francisco

September 3, 2021
Mercurial Moments in Contemporary Asian Video Art Study Guide Laura Marks Article Siying Duan Article Video Clips
Laura U. Marks, Grant Strate Professor, School for the Contemporary Arts, Simon Fraser University

September 10, 2021
Pursuing Justice Through Cinema Study Guide
Ohm Phanphiroj, Artist

September 17, 2021
My Body is a Canvas for My Art Study Guide
Chaw Ei Thein, Conceptual and Performance Artist

September 24, 2021
Off the Wheel and Breaking the Mold: Japan's Ceramic Art Today Study Guide
Laura Allen, Chief Curator, Asian Art Museum of San Francisco

October 1, 2021
Safar/Voyage: Contemporary Works by Arab, Iranian, and Turkish Artists Study Guide Additional Resources
Fereshteh Daftari, Independent Scholar and Curator

October 8, 2021
Luminous Ground (Artist Talk) Study Guide
Ala Ebtekar, Artist

October 15, 2021 (Note: Lecture will be from 2:00 p.m. to 4:00 p.m. Pacific Time.)
Building a New Tradition: Contemporary Architecture in China Study Guide
Li Xiangning, Professor and Assistant Dean, Tongji University College of Architecture and Urban Planning

October 22, 2021
Hung Liu's Family Portraits and Their Afterlives Chronology and Additional Resources
Link to Oct. 26, 2021 Forbes Article about the exhibition
Dorothy Moss, Curator of Painting and Sculpture, National Portrait Gallery, and Coordinating Curator of the Smithsonian American Women's History Initiative

October 29, 2021
Messages, Materials and Meaning in My Art Study Guide
Jean Shin, Artist and Adjunct Professor, Pratt Institute

November 5, 2021
On the Art of Timelessness in Contemporary Japanese Cinema Study Guide
Akira Mizuta Lippit, Professor and Vice Dean of Faculty, Division of Cinema and Media Studies, University of Southern California

November 20, 2021 New Date
Re-Telling Tales: Five Contemporary Women Artists from India (1997-2021) Suggested Readings Artists' Bios
Arshiya Mansoor Lokhandwala, Art Historian, Curator and Founder of Lakeeren - The Contemporary Art Gallery

December 3, 2021
Boundaries Crossed: Asian American Artists at Work Study Guide
Marci Kwon, Assistant Professor, Department of Art History, Stanford University

December 10, 2021 (Originally Scheduled on Nov. 12, 2021)
Transformations of Tradition in Mongolian Contemporary Art Study Guide
Uranchimeg Tsultem, Assistant Professor and Edgar and Dorothy Fehnel Chair in International Studies, Herron School of Art + Design, Indiana University–Purdue University Indianapolis
Photo Credits: Left: Ended Season (detail), 2011, by Zheng Chongbin (American, b. China, 1961). Ink and acrylic on paper. Asian Art Museum, Museum purchase with exchange funds from the estate of K. Hart Smith with additional funds from the Clarence Shangraw Memorial, 2012.5. Right: Large Bowl with Celadon Glaze, 2011, by Kawase Shinobu (Japanese, b. 1950). Celadon bowl with undulating rim. Asian Art Museum, Gift in honor of Dr. Laura W. Allen, 2013.48. © Kawase Shinobu. Photographs © Asian Art Museum.
Click on the image below to see the brochure for this lecture series.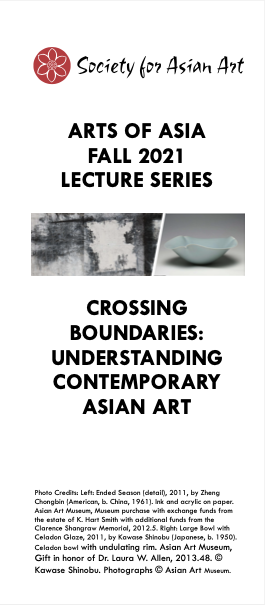 The 14 lectures are 14 separate webinars. A Zoom confirmation email with information on how to join the webinar will be sent to all registered attendees 2 or 3 days before each lecture. Even though it is not required by Zoom, we recommend that you download and install Zoom on your computer or mobile device in advance, and set yourself up with a free account. Attendees will have a chance to participate in the Q&A with a text chat function. Read Arts of Asia Webinar FAQs.
Registration Policies
The Society for Asian Art's cancellation policy requires at least one week's advance written notice in order to receive a refund of registration fees. This excludes our Travel programs, which have separate cancellation policies, as well as any programs where a specific refund policy is stated on the event page. Your fees will be returned to you through a check in the mail. To cancel, please contact us.
For programs located within the Asian Art Museum, the museum entrance fee must be paid separately and is not included with your registration fee.
Please note that by registering for a program, you are giving consent to the SAA to be photographed or videoed as a participant.