Arts of Asia Lecture Series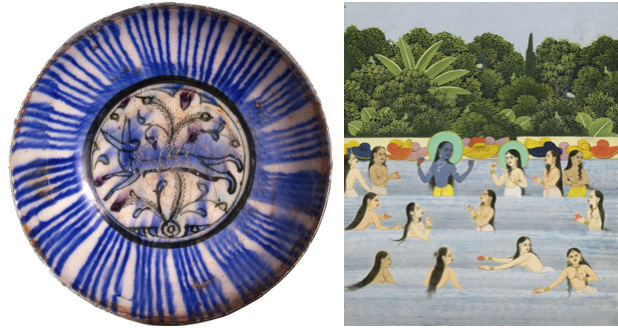 Arts of Asia Spring 2023 Global Connections: Asia and the Arts in the Second Millennium of the Common Era
When:
Repeats every week every Friday until Fri Apr 28 2023.
January 27, 2023
Time:
Fridays, January 27 to April 28, 2023, 10:30 am to 12:30 pm Pacific Time
Place:
Samsung Hall, Asian Art Museum & Zoom Webinars. Please see schedule below for any exceptions.
Fee:
Late Registration fees are $225 per person Society members; $300 per person non-members for the series. The advance registration deadline of Jan. 20, 2023 is now past. We will only accept drop-ins for individual lectures in Samsung Hall on a space available basis. Drop-in fee is $20 per person per lecture. All in-person fees are after Museum admission.

Society for Asian Art and Asian Art Museum are separate non-profit organizations with separate memberships. Please use the appropriate registration buttons to register for Society programs.
We are now accepting late registrations for this lecture series.

Please refer to the schedule of Speaker & Topics below to ascertain the location of each lecture.

The Society for Asian Art presents Global Connections: Asia and the Arts in the Second Millennium of the Common Era, the 3rd part of a 3-part lecture series focusing on the effects of technology and the environment on the arts and culture of Asia. Join us in the Asian Art Museum's Samsung Hall to attend these lectures in-person, or view the lectures on Zoom. 



Beginning in the Steppes of East Asia, explore the impact of the Mongol empire as it exploded west, forming the Ilkhanid Dynasty in Persia and east, forming the Yuan Dynasty in China. Follow the Ottoman Empire as it expanded from its center in Bursa and Constantinople – an empire that continued into the 20th century. The Mughals of South Asia continued the legacy of both Persia and the Mongols, and the Little Ice Age (1550–1850) affected Indian religion and culture. Climate and geography affected the rise of empires in Southeast Asia and triggered conflicts in the strategic location of the Korean Peninsula.

Speakers & Topics (Subject to Change)
January 27, 2023
Mongol Networks. Study Guide
Uranchimeg Tsultem, Assistant Professor, Herron School of Art + Design, Indiana University-Purdue University at Indianapolis (IUPUI)

February 3, 2023
Arts of the Ilkhanid and Timurid Empires
Linda Komaroff, Curator and Department Head of Art of the Middle East, Los Angeles County Museum of Art

February 10, 2023 The speaker will present this lecture on Zoom. We will broadcast the Zoom webinar in Samsung Hall.
Islam in the Medieval and Early Modern Indonesia
Eric Tagliacozzo, John Stambaugh Professor of History, Cornell University

February 17, 2023
Miraculous and Threatening Waters in Mainland Southeast Asia. Study Guide
Forrest McGill, Wattis Curator of South and Southeast Asian Art, Asian Art Museum of San Francisco

February 24, 2023
Yuan Dynasty: Arts, Technology and Trade  Study Guide
Morris Rossabi, Associate Adjunct Professor, Department of East Asian Languages & Cultures, Columbia University

March 3, 2023
Visualizing the World: Miniature Painting and the Mughals
Munis Faruqui, Associate Professor, Department of South and Southeast Asian Studies, University of California, Berkeley

March 10, 2023
How to See Water in an Age of Unusual Droughts: Ecological Aesthetics in the Little Ice Age, India
Sugata Ray, Associate Professor of South and Southeast Asian Art, University of California, Berkeley

March 17, 2023
Retrieving the Erased Spiritual and Material Cultures of Early Philippine Polities c. 1000-1500 CE
Florina Capistrano-Baker, Consulting Curator, Ayala Museum

March 24, 2023
Defending Korea and the Impact of the Pottery War (1592-1598)
Sunglim Kim, Associate Professor of Art History, Dartmouth College

March 31, 2023
Topographies at the Borderlands of Chinese Architecture, 14th-17th Centuries
Nancy Steinhardt, Professor of East Asian Art and Curator of Chinese Art, University of Pennsylvania

April 7, 2023
Ottoman Empire
Heghnar Watenpaugh, Professor of Art and Architecture, University of California, Davis

April 14, 2023 The speaker will present this lecture on Zoom. We will broadcast the Zoom webinar in Samsung Hall.
Zen Painting and the Heart-Mind in Medieval Japan
Yukio Lippit, Jeffrey T. Chambers and Andrea Okamura Professor of the History of Art and Architecture, Harvard University

April 21, 2023
The Lands of Rum: Seljuks, Beyliks, and Early Ottomans in Anatolia
Patricia Blessing, Assistant Professor of Art and Archaeology, Princeton University

April 28, 2023
Tea, Teapots and Their Contributions to the Rise of Asian Influence on Europe and Europe's Influence on Asia
James Connell, Professor of Fine Arts, Winthrop University

 
Photo Credits:
Bowl with running rabbit, approx. 1250–1350. Iran; probably Kashan. Ilkhanid period (1256-1353). Glazed fritware with underglaze decoration. Asian Art Museum, The Avery Brundage Collection, B60P1908. Photograph © Asian Art Museum.
The Hindu deity Krishna bathing with female cowherds, approx. 1820. India. Opaque watercolors on paper. Asian Art Museum, Gift of Mr. and Mrs. George Hopper Fitch, 1988.51.21. Photograph © Asian Art Museum.
Registered attendees of the lecture series are encouraged to attend in-person in Samsung Hall. Otherwise, registered attendees can attend via Zoom. Drop-ins for individual lectures are only available in-person in Samsung Hall on a space available basis. Drop-ins for individual lectures are not available on Zoom. The lecture series is organized as 14 separate Zoom webinars. A Zoom webinar confirmation email with information on how to join each week's webinar will be sent to all registered attendees 2 or 3 days before each lecture. Even though it is not required by Zoom, we recommend that you download and install Zoom on your computer or mobile device in advance, and set yourself up with a free account. Attendees will have a chance to participate in the Q&A via Zoom Q&A. Read Arts of Asia Zoom Webinar FAQs.
Registration Policies
The Society for Asian Art's cancellation policy requires at least one week's advance written notice in order to receive a refund of registration fees. This excludes our Travel programs, which have separate cancellation policies, as well as any programs where a specific refund policy is stated on the event page. Your fees will be returned to you through a check in the mail. To cancel, please contact us.
For programs located within the Asian Art Museum, the museum entrance fee must be paid separately and is not included with your registration fee.
Please note that by registering for a program, you are giving consent to the SAA to be photographed or videoed as a participant.