Arts of Asia Lecture Series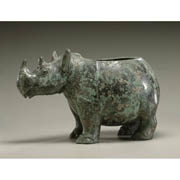 Arts of Asia Spring 2015: Masterpieces and Iconic Artworks of the Asian Art Museum
When:
Repeats every week every Friday until Fri May 01 2015.
January 23, 2015
Fee:
$175 Society members, $200 non-members (for the series after Museum admission) $20 per lecture drop-in (after Museum admission, subject to availability) Online series tickets are no longer available. Please call the SAA Office to purchase a series ticket.
Sign up for the Spring 2015 Arts of Asia lecture series, and learn why certain artworks in the Asian Art Museum's collection are considered "masterpieces" or "iconic." The series will begin with an overview of how the museum's collection was assembled given by instructor of record, Dany Chan. Subsequent lectures will be delivered by AAM curators and preeminent scholars including Robert Mowry, Susan Huntington, and Samuel Morse. Each speaker will focus on a single object or pair of objects which has been designated a "masterpiece" or "iconic." In addition to aesthetic qualities, other pertinent aspects will be discussed such as context (historical, cultural, and artistic), usage, and production technique. Bearing in mind the approach of the museum's 50th Anniversary, the Spring series will not only showcase the AAM's most celebrated artworks but also provide opportunities to familiarize the SAA audience with the museum's exceptionally talented and knowledgeable curators.
January 23
Introduction Study Guide
Dany Chan, AAM
January 30
Getting a Grip on the Demonic: Exploring An Indonesian Dagger Handle Study Guide
Natasha Reichle, AAM
February 6
A Unique Pair: The Bronze Rhinoceros and Its Collector, Avery Brundage Study Guide
Jay Xu, AAM
February 13
The Buddha Triumphing Over Mara: Form & Meaning in Buddhist Art Study Guide
Susan Huntington, Ohio State University
February 20
The Divine Royal Couple: Shiva and Parvati From Angkor Study Guide
Forrest McGill, AAM
February 27
The Elusive Nature of Jin Dynasty (1115–1234) Painting: The Asian Art Museum's Travelers Among Valleys and Peaks Study Guide
Stephen Little, LACMA
March 6 (very limited drop-ins, at State Department Building 350 McAllister Street) 
Kangxi Mallet Vase Study Guide
Robert Mowry, Harvard University
March 13
First Under Heaven: Korean Celadons in the Goryeo Dynasty Study Guide
Hyonjeong Kim Han, AAM
March 20
A Story Of A Korean Scholar's Accoutrement Painting: Its Beginning and Evolution Study Guide
Kumja Paik Kim, AAM
March 27
Portraits of Japanese Rulers: Hideyoshi and Emperor Meijii Study Guide
Yuki Morishima, AAM
April 3
Royal Rides: AAM's Silver Howdah And Its Virginia Relation Study Guide
John Henry Rice, Virginia Museum of Fine Arts
April 10
Timurid Jade Cup Study Guide
Qamar Adamjee, AAM
April 17
Bonten and Taishakuten Study Guide
Samuel Morse, Amherst College
April 24
338 Buddha Study Guide
Michael Knight, AAM
May 1
Time Travel in Two Tibetan Thangka: The Magical Art of Riwoche Monastery Study Guide
Jeff Durham, AAM
Note: Your registration for this event is consent to be photographed or videoed as a participant for SAA publicity purposes.