Arts of Asia Lecture Series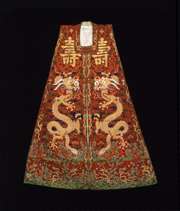 Arts of Asia Spring 2016: Patronage in Asian Art-Monarchs, Merchants, and Devotees
When:
Repeats every week every Friday until Fri Apr 29 2016.
January 22, 2016
Fee:
$175 Society members, $200 non-members (for the series after Museum admission), $20 per lecture drop-in (after Museum admission, subject to availability, cannot be purchased in advance)
Register now for the spring semester! Setting the stage for the Emperors' Treasures special exhibition from the National Palace Museum in Taipei next summer, the Society for Asian Art's Spring 2016 Arts of Asia lecture series will examine the many ways patronage has influenced Asian art. The sponsorship of art by monarchs, merchants, and devotees will be explored throughout Asia. Five of 15 lectures will focus on Chinese patronage from ancient times through several of the most famous imperial dynasties (Song, Yuan, Ming, and Qing). Other famous patrons whose taste and commissioned works will be explored include Jayavarman VII (Angkor Wat), the Safavids in Persia, Jahanara Begum (Shah Jahan's daughter), and even contemporary patrons like the Samsung family.
As always, a distinguished roster of prominent scholars and curators will be delivering these lectures (see list below).
January 22
Court Patronage in Early China Study Guide
Amy McNair, University of Kansas 
January 29
Two Pioneers in Art Collecting During Twentieth-Century Korea: Kansong and Hoam Study Guide
Hyonjeong Kim Han, AAM 
February 5
Double Rams: A Pair of Unusual Shang Bronze Vessels from the Yangzi Region Study Guide
Jay Xu, AAM
February 12
Plum Blossoms and Parakeets: Rationales for Imperial Collecting in the Song Dynasty Study Guide, Imperial Art Collecting, Cranes Above Kaifeng
Alfreda Murck, Metropolitan Museum of Art (Research Volunteer)
February 19
King Jayavarman VII of Cambodia: Personality and Ideology Study Guide
Hiram Woodward - Walters Art Museum (Curator Emeritus)
February 26
Eye to the Future, Eye to the Past: Patronage During the Meiji Era Study Guide
Anne Nishimura Morse, Museum of Fine Arts, Boston
March 4
Courtly Lucknow Art Study Guide
Tushara Bindu Gude, LACMA
March 11
Like Father Like Son: The Adventures of Michinaga and Yorimichi as Buddhist Art Patrons in Kyoto in the Time of the Supernova Study Guide
Mimi Yiengpruksawan, Yale U.
March 18
Patronage During the Yuan Dynasty Study Guide
Ankeney Weitz, Colby College
March 25
Jahanara Begam: The 17th C. Mughal Princess Who Could Be King Study Guide Reading Additional Reading
Afshan Bokhari, Wellesley College
April 1
Indo-Persian Painter Farrukh Beg Study Guide
Keelan Overton, UCLA (Lecturer in Art History and Independent Scholar)
April 8
"Patronage and the Purification of All Negative Rebirths in Early Tibet: A View from Dunhuang" Study Guide Reading
Jake Dalton, UC Berkeley
April 15
Exchange, Indebtedness, and Artistic Production: Artists and Collectors in the Ming Dynasty Study Guide
Dora Ching, Princeton
April 22
Making Merit: Art Patronage During the Pala Period Study Guide
Robert Linrothe, Northwestern University
April 29
The Man Who Had Everything - Qianlong as Patron of the Arts Study Guide
Pat Berger, UC Berkeley
Note: Your registration for this event is consent to be photographed or videoed as a participant for SAA publicity purposes.