Arts of Asia Lecture Series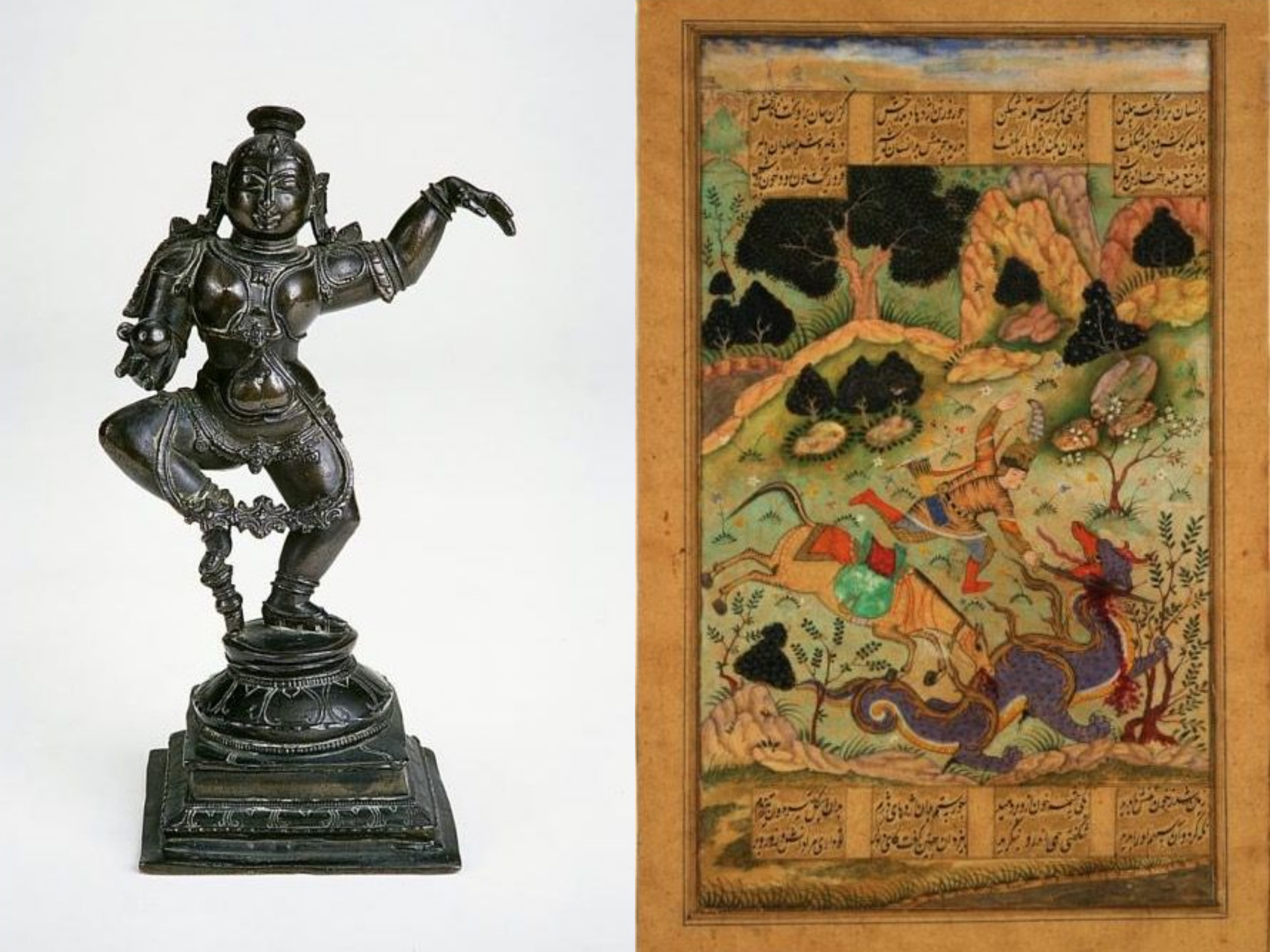 Arts of Asia Fall 2020 Heroes and Villains in Asian Art and Culture
When:
Repeats every week every Friday until Fri Dec 04 2020 except Fri Nov 06 2020, Fri Nov 27 2020.
August 21, 2020
Time:
Fridays, August 21 to December 4, 10:30 am to 12:30 pm Pacific Time (No lecture on November 6 & November 27) (Subject to change)
Fee:
$175 per person Society members; $200 per person non-members for the series. No drop ins. Advance registration must be received by the SAA no later than August 14, 2020.
Advance registration is now closed. In addition, we do not accept "drop ins" for individual lectures.
The 14 lectures are 14 separate webinars. A Zoom confirmation email with information on how to join the webinar will be sent to all registered attendees 2 or 3 days before each lecture. Even though it is not required by Zoom, we recommend that you download and install Zoom on your computer or mobile device in advance, and set yourself up with a free account. Attendees will have a chance to participate in the Q&A with a text chat function. Read Fall 2020 Arts of Asia Webinar FAQ's.
Our distinguished scholars explore some of the greatest stories in history, stories that still speak to us today, and the art they have inspired. Come look at historical figures, religious leaders, and characters in epics and great works of fiction. We will see how history is transformed in the Romances of Alexander the Great in Asia and the Japanese war epic, The Tale of Heike. Come witness the fights against demons by Tibet's first Lama, Milarepa, and Rostam, the great hero of the Shahnameh. Who are the heroines behind the heroes: the woman who created Tale of Genji, and the real hero of the 1001 Nights, Shahrazad? We will contrast the roles of moving religious performances, including Krishna's dance as divine play, and the powerful Shia passion play, the Ta'ziyeh of Hussein. We will explore how two powerful political leaders, King Sejong of Korea and Mao Zedong of China are depicted. Examine the challenges posed by heroes and villains in three epic novels of Chinese literature, The Three Kingdoms, Water Margin (Lords of the Marsh), and Jin Ping Mei (The Golden Lotus). Join us to learn about the different kinds of heroism in the Ramayana, and how Bali's Rangda and Barong restore cosmic balance.
August 21
It's Right to Rebel! (zào fǎn yǒu lǐ): Heroes, Justice and Anarchy in The Water Margin, Jin Ping Mei and Beyond Study Guide
Stephen Roddy, University of San Francisco
August 28
The Hero Dances: Representing Krishna's "Play" Study Guide
Forrest McGill, Asian Art Museum
September 4
Alexander Dhulqarnayn: Mariner, Mountaineer, Sage, and Islamic Holy Figure Study Guide
Chants of Quran Verses
David Zuwiyya, Auburn University
September 11
Dīvs and Dragons as Adversaries: Rostam Faces his Zoroastrian Demons Study Guide
Touraj Daryaee, UC Irvine
September 18
Decoding Milarepa: Tibet's First Lama Study Guide
Jeff Durham, Asian Art Museum
September 25
What Kind of Heroism Appears in the Ramayana of India? Study Guide
Looking at Ravana Article
Definitions Dates and Overall Argument
Paula Richman, Professor Emerita, Oberlin College
October 2
Defanging the Demonic and Dancing the Divine: Bali's Rangda and Barong in Cosmic Balance Study Guide
Presentation
Kathy Foley, UC Santa Cruz
October 9
The Changing Faces of Heroism and Villainy in The Three Kingdoms Story Cycle 220-2020 Study Guide
Kimberly Besio, Colby College
October 16
Sejong the Great, Chosŏn Korea and the Ideal of the Sage King Study Guide
Michael Robinson, Professor Emeritus, Indiana University Bloomington
October 23
Arrogance, Bravery, and Betrayal – Visualizations of Some Towering Figures in Japan's Medieval War Epic The Tale of the Heike Study Guide
John Wallace, UC Berkeley
October 30
The "Women's Hand" in The Tale of Genji: Illuminated Manuscripts through the Ages Study Guide
John Carpenter, Metropolitan Museum of Art
November 13
Ta'ziyeh: The Shia Passion Play Study Guide
Negar Mottahedeh, Duke University
November 20
Shahrazad, (Vanishing) Superhero of the 1001 Nights Study Guide
Suzanne Gauch, Temple University
December 4
Red Media: Tempering Hearts with Mao Zedong Study Guide
Jennifer Dorothy Lee, School of the Art Institute of Chicago
* Photo Credits:
Left: The Boy Krishna holding a stolen butterball and dancing, perhaps 1600–1700. Southern India. Bronze. Asian Art Museum, The Avery Brundage Collection, B60B192. Photograph © Asian Art Museum of San Francisco.
Right: The hero Rustam slaying a dragon, from a manuscript of the Shahnama (Book of Kings), 1600–1650. Northern India or Pakistan. Opaque watercolors on paper. Asian Art Museum, Gift of Mr. and Mrs. George Hopper Fitch, B74D20. Photograph © Asian Art Museum of San Francisco
Registration Policies
The Society for Asian Art's cancellation policy requires at least one week's advance written notice in order to receive a refund of registration fees. This excludes our Travel programs, which have separate cancellation policies, as well as any programs where a specific refund policy is stated on the event page. Your fees will be returned to you through a check in the mail. To cancel, please contact us.
For programs located within the Asian Art Museum, the museum entrance fee must be paid separately and is not included with your registration fee.
Please note that by registering for a program, you are giving consent to the SAA to be photographed or videoed as a participant.