Arts of Asia Lecture Series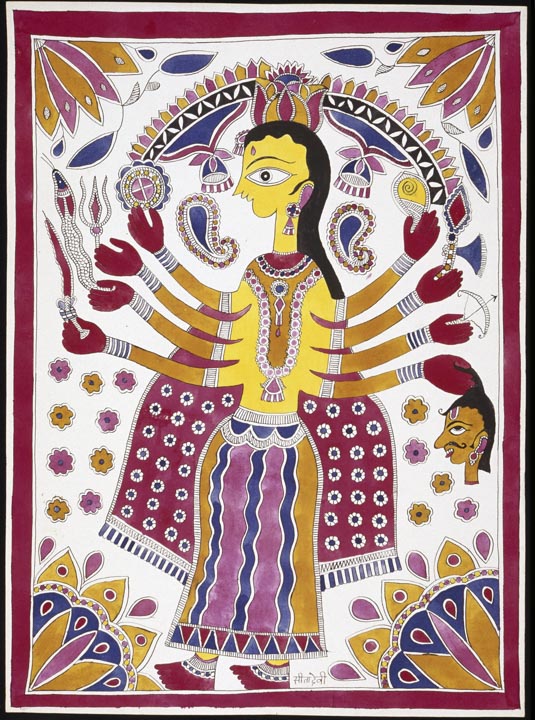 Arts of Asia Spring 2017 – Women, Real and Imagined, in Asian Art
Instructor:
Various Scholars and Curators
When:
Repeats every week every Friday until Fri Apr 28 2017.
January 20, 2017
Fee:
$175 Society members, $200 non-members (for the series after Museum admission). $20 per lecture drop-in (after Museum admission, subject to availability).
Videos of the lectures are now available on the Asian Art Museum's Apple Podcasts. Click here to view the available videos from this lecture series. Please note that permission was not granted by several speakers to film or upload videos. Thank you for your understanding.
Explore the important, richly varied roles women have played in Asian art through the Society for Asian Art's Spring 2017 Arts of Asia lecture series.
The programs will examine how women have been perceived and portrayed as powerful deities, virtuous wives, respected mothers and sensual lovers. As these roles are highlighted, so will the myriad ways women have thrust off familiar roles and acted in their own rights as leaders, patrons and artists.
In the 15 lectures, leading scholars and curators will highlight the impact of fearsome Hindu goddesses such as Durga and Kali — Indian deity rock stars — and Tara and Prajnaparamita, revered goddesses in the Buddhist pantheon of the Himalayas and beyond. Also explored is the dramatic history of China's Empress Wu Zetian, who rose from imperial concubine and nun to become the only female sovereign of a unified Chinese empire in more than four millennia, earning herself the title "Emperor of China." Both the subjects and creators of art will be examined: Japanese female artists, patronesses, courtesans and ghosts from the Heian era to modern day. Southeast Asian textiles — the ultimate statements of fashion, faith and status — will illuminate women's creative leadership. The evolving, deepening roles of women in modern and contemporary Asian art will also be discussed, with particular attention to contributions in architecture, painting and film-making.
January 20, 2017
Mahadevi: The Great Goddess and Her Manifestations in Indian Art Study Guide
Mary-Ann Milford-Lutzker, Mills College 
January 27, 2017
Empress Wu Zetian: Humble Benefactrix, Divine Beneficiary Study Guide
Amy McNair, University of Kansas    
February 3, 2017
The Ritual Origins of Mithila Art Study Guide
Carolyn Brown Heinz, California State University Chico 
February 10, 2017
The Way of Water– Female Agency & Art Making in China Study Guide , Empresses, Art and Agency in Song Dynasty China
Hui-shu Lee, UCLA
February 17, 2017
Princess Patronesses in Ilkhanid, Timurid and Safavid Worlds Study Guide
Keelan Overton, Independent Scholar
February 24, 2017
Angry Female Ghost & Vengeful Women in Japanese Art, Literature & Culture Study Guide
John Wallace, UC Berkeley
March 3, 2017
Interwoven Lives: Women and Textiles in Southeast Asia Study Guide             
Natasha Reichle, AAM
March 10, 2017
Queen Seondeok of Silla: Korea's First Queen Study Guide
Kumja P. Kim, AAM
March 17, 2017
Twilight World of Screens? Really? Women Art & Agency in Late Heian Japan Study Guide
Mimi Hall Yiengpruksawan, Yale University  
March 24, 2017
Mother of All Buddhas: Prajna-paramita ("the Pefection of Wisdom") and Tara ("the Star") in Asian Art Traditions Study Guide
Jeff Durham, AAM 
March 31, 2017
What Becomes a Woman Most: Japanese Art and the Feminine Ideal  Study Guide             
Laura Allen, AAM    
April 7, 2017
Zaha Hadid and Female Architects of Asian Descent Study Guide
Jordan Kauffman, Brandeis University
April 14, 2017
Lady Dai of Mawangdui, Fu Hao and other Women of Pre-Han China Study Guide
Katheryn Linduff, University of Pittsburgh  
April 21, 2017
Daughter of the Dragon:Anna Mae Wong & Asian Women in Film Study Guide
Karin Oen, AAM                                
April 28, 2017
Eighteen Songs on a Nomad Flute: The Story of Lady Cai Wenji Study Guide
Pat Berger, UC Berkeley      
Registration Policies
The Society for Asian Art's cancellation policy requires at least one week's advance written notice in order to receive a refund of registration fees. This excludes our Travel programs, which have separate cancellation policies, as well as any programs where a specific refund policy is stated on the event page. Your fees will be returned to you through a check in the mail. To cancel, please contact us.
For programs located within the Asian Art Museum, the museum entrance fee must be paid separately and is not included with your registration fee.
Please note that by registering for a program, you are giving consent to the SAA to be photographed or videoed as a participant.