Arts of Asia Lecture Series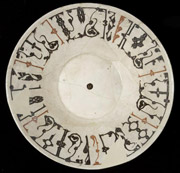 Fall 2014: The Arts of The Islamic World
When:
Repeats every week every Friday until Fri Dec 05 2014 except Fri Oct 31 2014, Fri Nov 28 2014.
August 22, 2014
Fee:
$20 per lecture drop-in (purchase at the door, after Museum general admission, subject to availability).
Videos of the lectures are now available on the Asian Art Museum's Apple Podcasts. Click here to view the available videos from this lecture series.
This will be the first time a lecture series on the arts of the Islamic world has been presented at the Asian Art Museum. The fifteen lectures in the series have been structured to provide a broad overview of both pre-Islamic and Islamic art. The subjects include pre-Islamic art in Iran, Central Asia, Arabia and Byzantium, painting, architecture, ceramics, textiles, calligraphy, Islam in India, attitudes towards images, and contemporary art.
As always, a distinguished roster of prominent scholars and curators has been assembled, several of whom will be coming from famous UK institutions such as Oxford and the British Museum.
August 22
Introduction Study Guide
Qamar Adamjee, AAM
August 29
An Introduction to the Art and Architecture of Pre-Islamic Iran and Central Asia Study Guide
David Stronach, UC Berkeley
September 5
Arts of Ancient Arabia Study Guide
Massumeh Farhad, Freer & Sackler
September 12
Assimilation and Conquest: Byzantine Sources for Islamic Art Study Guide
Helen Evans, Metropolitan Museum
September 19
Is there an Image Problem in Islam? Materials for the History of an Idea. Study Guide
Finbarr Barry Flood, NYU
September 26
Persian Painting: The First Golden Age (1300-1500) Study Guide
Robert Hillenbrand, University of Edinburgh
October 3
Seeing and Being Seen in Isfahan: Expanding Gaze for an Early Modern Capital Study Guide
Renata Holod, University of Pennsylvania
October 10
Chinese Influence on Islamic Glazed Ceramics Study Guide
Oliver Watson, University of Oxford
October 17
Building Types in Islamic Architecture Study Guide
Santhi Kavuri-Bauer, San Francisco State University

October 24
The Visual Culture of Islam in India Study Guide
Alka Patel, UC Irvine

October 31- RESCHEDULED to January 31st DUE TO MUSEUM CLOSURE FOR GIANTS VICTORY PARADE 
Ex Oriente Lux: Luxury Textiles and Oriental Carpets Study Guide
Carol Bier, Textile Museum, Washington D.C.

November 7
The Art of Islamic Calligraphy: A Journey through Time Study Guide
Maryam Ekhtiar, Metropolitan Museum

November 14
Seek Knowledge Even as Far as China: East-West Cultural Transmissions in Post Mongol Iran Study Guide
Ladan Akbarnia, British Museum

November 21
Modernism and Islamic Art Study Guide
Iftikhar Dadi, Cornell University
November 28
No Class, Thanksgiving break
December 5
Imagining Europe at the Persian Court in the Seventeenth Century (1590-1720) Study Guide
Amy Landau, Walters Art Museum
Registration Policies
The Society for Asian Art's cancellation policy requires at least one week's advance written notice in order to receive a refund of registration fees. This excludes our Travel programs, which have separate cancellation policies, as well as any programs where a specific refund policy is stated on the event page. Your fees will be returned to you through a check in the mail. To cancel, please contact us.
For programs located within the Asian Art Museum, the museum entrance fee must be paid separately and is not included with your registration fee.
Please note that by registering for a program, you are giving consent to the SAA to be photographed or videoed as a participant.