Arts of Asia Lecture Series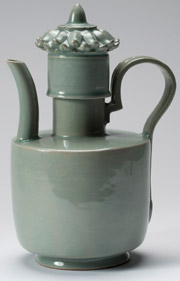 Fall 2013: The Culture and Arts of Korea and Early Japan
When:
Repeats every week every Friday until Fri Dec 06 2013 except Fri Nov 29 2013.
August 23, 2013
Fee:
$20 drop-in fee which can be paid at the door (subject to availability, after Museum admission)
Videos of the lectures are now available on the Asian Art Museum's Apple Podcasts. Click here to view the available videos from this lecture series.
Register now for the Fall semester of the Arts of Asia lecture series: The Culture and Arts of Korea and Early Japan. This popular series will coincide with the third and final year of the training program for museum docents and is expected to sell out quickly. The first eleven lectures will cover the history of Korean culture and art chronologically, ending with an analysis of Korea's exciting contemporary art scene. The last four lectures will examine early Japanese culture and art (with the remaining history of Japanese art to be covered in the Spring 2014 semester).
As always, the Arts of Asia lectures will feature a distinguished roster of prominent scholars and curators who will draw on the Museum's impressive collection of Asian art to illustrate their lectures.
August 23
Overview of Korean Art Study Guide
Hyonjeong Kim Han, Asian Art Museum
August 30
Buddhist Art of Three Kingdoms Korea Study Guide
Minku Kim, University of Minnesota
September 6
Imaging a Buddha Land: Monuments and Sculptures of Unified Silla Study Guide
SunKyung Kim, USC
September 13
Goryeo Celadon Ceramics in Context Study Guide
Charlotte Horlyck, SOAS, University of London     
September 20
Goryeo Metal Crafts: From Luxury Goods to Sacred Offerings Study Guide
Youn-mi Kim, Yale University
September 27
Red, White and Blue: Korean Ceramics of the Joseon Dynasty (1398-1910) Study Guide
Robert Mowry, Harvard University
 
October 4
The Impact of Confucianism on Joseon Visual Art Study Guide
Kumja Paik Kim, Asian Art Museum
October 11
Unfolding Beauty and Beyond: Korean Screen Paintings of the Joseon Dynasty (1392-1910) Study Guide
Hyunsoo Woo, Philadelphia Museum of Art
October 18
Structure, Colors, and Symbolism of Korean Bridal Robes: Hwalot and Wonsam Study Guide
Minjee Kim, Independent Scholar
October 25
18th C.  Court Art Study Guide
JaebinYoo, Harvard University
November 1
In the Midst of it All: Postwar Korean Art, 1953-1988 Study Guide
Joan Kee, University of Michigan
November 8
Overview of Japanese Art Study Guide
Laura Allen, Asian Art Museum
November 15
Early Buddhist Sculpture in Japan: Continental Models and Local Innovations Study Guide
Chari Pradel, Pomona
November 22
Buddhist Sculpture and the State: The Great Temples of Nara Study Guide
Samuel Morse, Amherst College
November 29
No Class, Thanksgiving break
December 6
Heian Buddhist Sculpture: Assimilating Foreign Trends and Indigenous Beliefs Study Guide
Yui Suzuki, University of Maryland  
Registration Policies
The Society for Asian Art's cancellation policy requires at least one week's advance written notice in order to receive a refund of registration fees. This excludes our Travel programs, which have separate cancellation policies, as well as any programs where a specific refund policy is stated on the event page. Your fees will be returned to you through a check in the mail. To cancel, please contact us.
For programs located within the Asian Art Museum, the museum entrance fee must be paid separately and is not included with your registration fee.
Please note that by registering for a program, you are giving consent to the SAA to be photographed or videoed as a participant.