Arts of Asia Lecture Series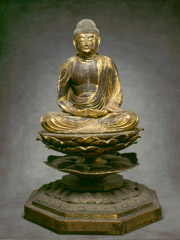 Spring 2014: The Culture and Arts of Japan
When:
Repeats every week every Friday until Fri May 02 2014.
January 24, 2014
Fee:
Spaces available for drop in tickets on a first come first service basis at $20 per lecture (after Museum admission).
Videos of the lectures are now available on the Asian Art Museum's Apple Podcasts. Click here to view the available videos from this lecture series.
After having examined early Japanese art during Fall Semester, the Spring Arts of Asia series will begin by focusing on special themes in Japanese art before moving chronologically from the Momoyama period to Japanese contemporary art.  As always, the lectures will be delivered by prominent scholars and curators, and this semester will coincide with the third and final year of the Museum's current docent training class. Similar to the Fall semester, this year's Spring semester is expected to sell out, so prompt registration is strongly recommended.
January 24
The Yamato-e tradition: Japanese Picture Scrolls and Famous-Place Paintings Study Guide
Laura Allen, Asian Art Museum
January 31
The Tale of Genji in Japanese Painting Study Guide
Melissa McCormick, Harvard University
February 7
Japan and the Culture of the Four Seasons: Nature, Literature, and the Arts Study Guide
Haruo Shirane, Columbia University
February 14
In and Around the Arts of Tea in Momoyama Japan
Andrew Watsky, Princeton University Study Guide
February 21
Samurai Life during the Edo Period
Luke Roberts, UC Santa Barbara Study Guide
February 28
Stuffed Buddhas: Buddhist Sculpture, Interior Objects, and Consecration
Greg Levine, UC Berkeley Study Guide
March 7
The Art of Monks: Ink Painting in Medieval Japan
Yukio Lippit, Harvard University Study Guide
March 14
Society Today! Edo Printed Books and the Revolution in Illustration
Mary Elizabeth Berry, UC Berkeley Study Guide
March 21
****Lecture will be held at the State Bldg. (350 McAllister St)****
Famous Sites, Great Names in Momoyama and Early Edo Painting
Elizabeth Lillehoj, DePaul University Study Guide
March 28
Kimono Stories: Four Centuries of Japanese Fashion Study Guide
Sharon Takeda, LA County Museum of Art
April 4
Making Pictures in 18th Century Japan
Matthew McKelway, Columbia University
April 11
Reading 'The Mirror of Yoshiwara Beauties, Compared' In Context Study Guide
Julie Nelson Davis, University of Pennsylvania
April 18
From Art as Technology to the Arts of Longing: Paintings and Craft Objects in Meiji Japan Study Guide
Chelsea Foxwell, University of Chicago
April 25
The Local and the Global in the Art of Modern and Contemporary Japan Study Guide
Alicia Volk, University of Maryland
May 2
Collecting and Connoisseurship Study Guide
Emily Sano, Former Director Asian Art Museum
Registration Policies
The Society for Asian Art's cancellation policy requires at least one week's advance written notice in order to receive a refund of registration fees. This excludes our Travel programs, which have separate cancellation policies, as well as any programs where a specific refund policy is stated on the event page. Your fees will be returned to you through a check in the mail. To cancel, please contact us.
For programs located within the Asian Art Museum, the museum entrance fee must be paid separately and is not included with your registration fee.
Please note that by registering for a program, you are giving consent to the SAA to be photographed or videoed as a participant.