Arts of Asia Lecture Series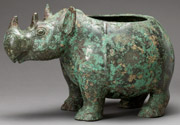 The Arts of Asia Fall 2012: The Culture and Arts of China: From the Neolithic Age Through the Tang Dynasty
When:
Repeats every week every Friday until Fri Dec 07 2012 except Fri Nov 23 2012.
August 24, 2012
Fee:
$20 per lecture drop-in (after Museum admission, subject to space availability)
Videos of the lectures are now available on the Asian Art Museum's Apple Podcasts. Click here to view the available videos from this lecture series.
Register now for the next Arts of Asia lecture series and join us as we explore the arts, culture, and history of China. Featuring prominent scholars and curators from across the globe, the 15 Fall lectures will showcase the collection of the Asian Art Museum. These works of art help us understand early Chinese philosophies, religions, technology, trade, and the rise and fall of its great dynasties from pre-history through the end of the Tang dynasty in 906 CE. Lectures will cover China's linguistic, religious, ritual, and artistic structures as well as early China's wide spread economic and cultural clout. This lecture series coincides with the beginning of the second year of a three-year training program for new Museum docents.
August 24
Introduction: What is China? What is Chinese? Study Guide
Michael Knight, Asian Art Museum
August 31
The Rise of Chinese Civilization: Neolithic and Early Bronze Age (6500-1500 BC) Study Guide
Lothar von Falkenhausen, UC Los Angeles
September 7
The Beginnings of the Bronze Age in China: Anyang and Its Predecessors Study Guide
Robert Bagley, Princeton University
September 14
Conquest and Consolidation: Late Shang and Western Zhou in Material Culture Study Guide
Jay Xu, Asian Art Museum
September 21
From Ritual Vessels and Bells to Luxury Status Symbols: The Spring and Autumn and Warring States Periods (770–221 BCE) Study Guide
Colin Mackenzie, Nelson-Atkins Museum of Art, Kansas City
September 28
Unification: Qin and Early Han Dynasties Study Guide
Jeffrey Riegel, University of Sydney
October 5
Planning for the Living and the Dead in Han Dynasty China Study Guide
Pat Berger, UC Berkeley
October 12
Foreign Relations during the Han and Three Kingdoms: The Early "Silk Road" Study Guide
Stan Abe, Duke University
October 19
Introduction to Chinese Buddhism Study Guide
Stan Abe, Duke University
October 26
Confucianism, Daoism and the State Cult: Han - Six Dynasties Study Guide
Suzanne Cahill, UC San Diego
November 2
A Time of Disorder: The Three Kingdoms and Six Dynasies Periods Study Guide
Annette Juliano, Rutgers University
November 9
Toward a Unified State: Late Six Dynasties – Sui Dynasty Study Guide
Amy McNair, University of Kansas
November 16
Balancing Acts: Art of the Early to High Tang Period Study Guide
De-nin Lee, Emerson College
November 23
Thanksgiving No Class
November 30
Silk Road Exchanges in Action: The Japanese monk Ennin's Travels in China, 838-847 Study Guide
Valerie Hansen, Yale University
December 7
Changing Roles: the Educated Elite and the Hereditary Aristocracy in the Late Tang Study Guide
Pat Berger, UC Berkeley
Registration Policies
The Society for Asian Art's cancellation policy requires at least one week's advance written notice in order to receive a refund of registration fees. This excludes our Travel programs, which have separate cancellation policies, as well as any programs where a specific refund policy is stated on the event page. Your fees will be returned to you through a check in the mail. To cancel, please contact us.
For programs located within the Asian Art Museum, the museum entrance fee must be paid separately and is not included with your registration fee.
Please note that by registering for a program, you are giving consent to the SAA to be photographed or videoed as a participant.