Trips/Travel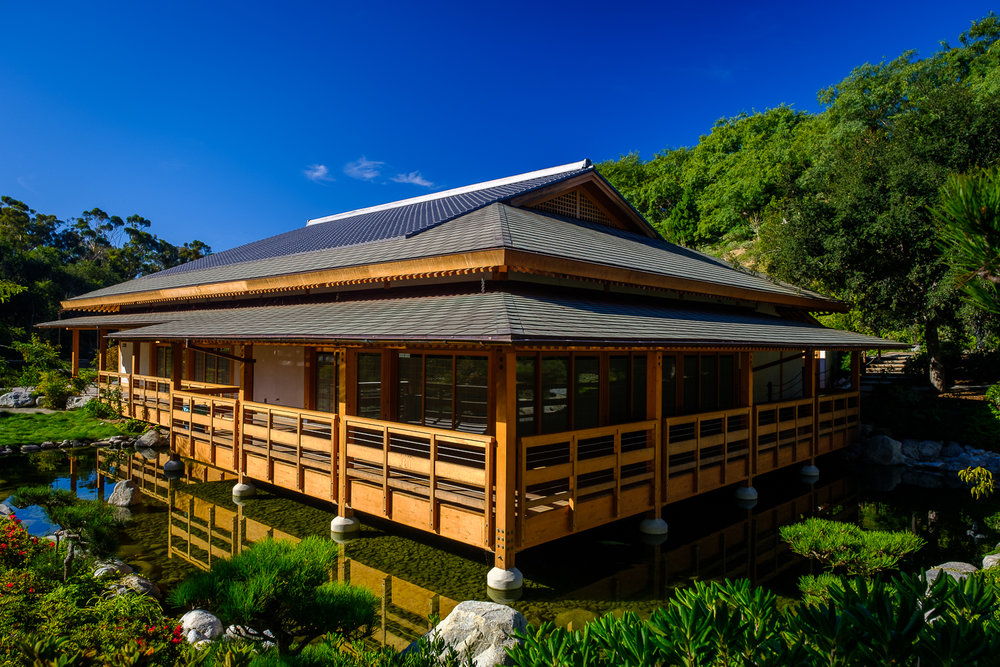 Stunning Treasures from Asia in San Diego
When:
November 9, 2021

to

November 12, 2021
Fee:
Price per person Society members only: Double Occupancy US$1,195; Single Occupancy US$1,620.
A few spaces are still open on this trip. Since we have now met the minimum participant requirement, Travel Muse is now accepting reservations online on a first-come first-serve basis. Please check out the trip details below and sign up online!
Society for Asian Art Presents
Stunning Treasures from Asia in San Diego
November 9 - 12, 2021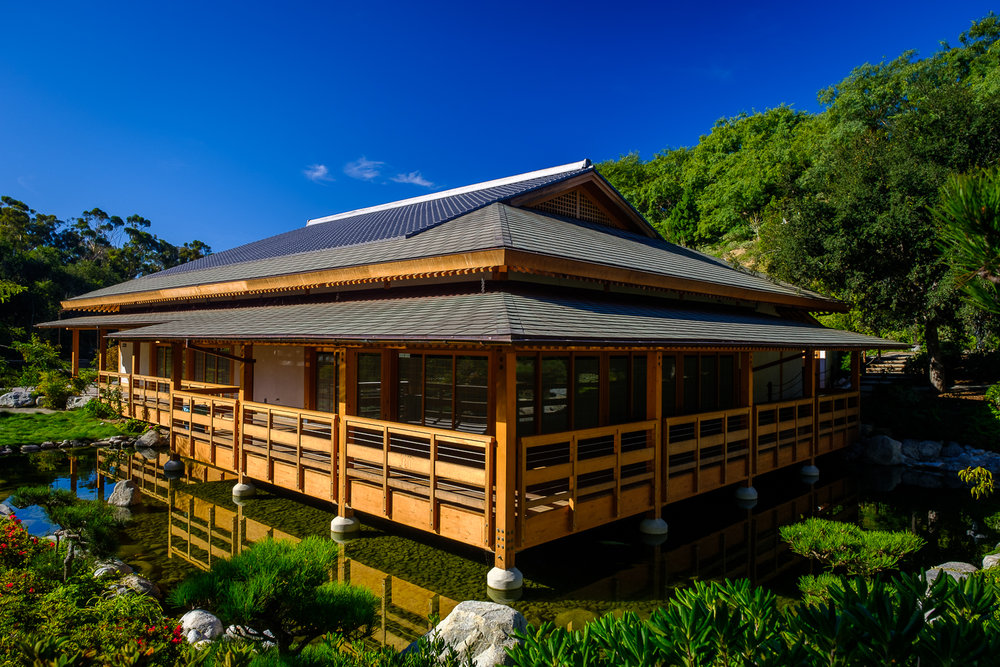 The LEED-certified Inamori Pavilion at Japanese Friendship Garden in Balboa Park, designed by Kotaro Nakamura, offers views of a cascading waterfall and koi ponds. Photo by Dominic Nepomuceno, Oct. 6, 2016.

Join the Society for Asian Art for two full days in San Diego! Balboa Park is home to three institutions that boast significant collections from Japan, China, India and elsewhere in Asia: the Mingei International Museum, Japanese Friendship Garden, and San Diego Museum of Art. We will also visit the Chinese Historical Museum and a renowned private collection of Japanese ceramics. Our tour ends on a festive note in Old Town, where we will enjoy the best Mexican food north of the border. Our base for this tour will be the award-winning Solamar San Diego, situated in the lively Gaslamp District, within walking distance to many restaurants.


Reservations will be accepted BY MAIL ONLY and must include the full payment for the trip by check or credit card (American Express, Visa, MasterCard or Discover). Please make checks payable to the tour operator,  Travel Muse Inc., and not the Society for Asian Art. Mail the completed reservation form and the payment to Meg MacDonald, Travel Muse Inc., 369 Montezuma Avenue, #319, Santa Fe, NM 87501. Contact Meg MacDonald of Travel Muse Inc. with any questions, (617) 480-0250, meg@travelmuse.net.
Acceptance will be determined by the earliest postmark date. This trip is limited to a maximum of 20 SAA members.

Check out the trip flyer/reservation form with the itinerary, and send in your reservation today!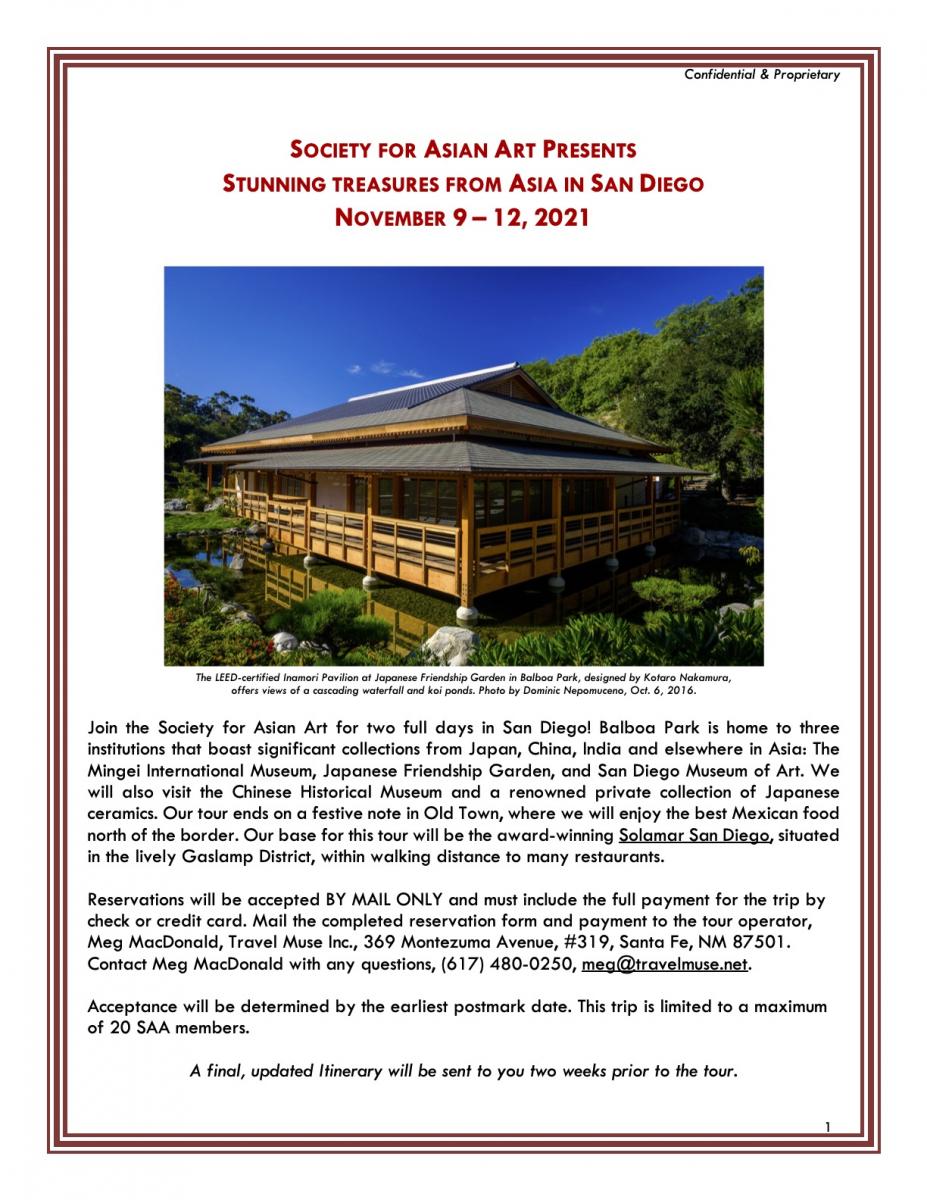 Registration Policies
The Society for Asian Art's cancellation policy requires at least one week's advance written notice in order to receive a refund of registration fees. This excludes our Travel programs, which have separate cancellation policies, as well as any programs where a specific refund policy is stated on the event page. Your fees will be returned to you through a check in the mail. To cancel, please contact us.
For programs located within the Asian Art Museum, the museum entrance fee must be paid separately and is not included with your registration fee.
Please note that by registering for a program, you are giving consent to the SAA to be photographed or videoed as a participant.