Member Events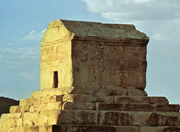 New Light on the Cyrus Cylinder
Fee:
Seats are offered on a 1st-come-1st-serve basis.
New discoveries related to the Cyrus Cylinder continue to be made more than 130 years after its discovery in the ruins of Babylon in 1879. These discoveries shed fresh light on the character and concerns of Cyrus. Professor Stronach, who has worked on and studied this archaeological site, will offer new insights on the gardens and monuments of Cyrus, as well as talk about the Oxus treasure and the Gold Armlet in the exhibition. This will provide an opportunity to explore the rare quality of Achaemenid Persian jewelry from the 6thto 4thcenturies BCE.
We kindly request that you register for this free program to ensure your place, as the Museum will also be publicizing it on their website.
David Stronach is Professor Emeritus of Near East Studies at UC Berkeley. He is a renowned archaeologist, especially of the area of ancient Iran and Iraq, and a leading expert on Pasargadae, the capital city of Cyrus.
Registration Policies
The Society for Asian Art's cancellation policy requires at least one week's advance written notice in order to receive a refund of registration fees. This excludes our Travel programs, which have separate cancellation policies, as well as any programs where a specific refund policy is stated on the event page. Your fees will be returned to you through a check in the mail. To cancel, please contact us.
For programs located within the Asian Art Museum, the museum entrance fee must be paid separately and is not included with your registration fee.
Please note that by registering for a program, you are giving consent to the SAA to be photographed or videoed as a participant.