Member Events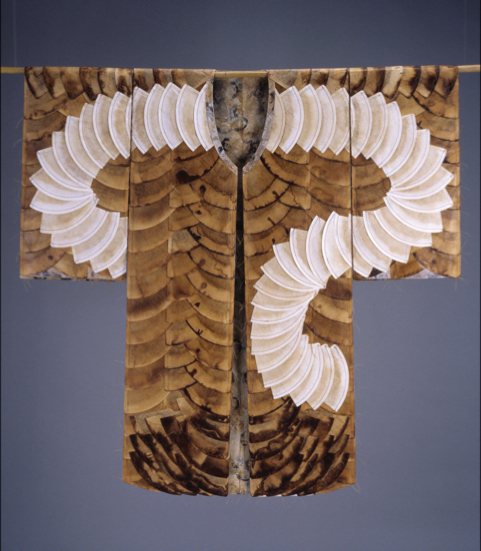 Creative Transformation: Coffee Filters to Kimonos
Time:
10:30 a.m. - 12:00 p.m. Pacific Time
Fee:
$15 per person Society members; $20 per person non-members. Advance registration must be received by the SAA by Feb. 10, 2021.
Advance registration is now closed.
We all know a kimono as a traditional Japanese garment. We also know a kimono can be a decorative art form that draws attention when displayed on a living room wall. People admire the craftsmanship, the decoration, the pattern, the color, and the fabric, be it silk or cotton or coffee filters. Yes, coffee filters! Come hear and see as Lucia Matzger explains how she uses coffee filters as a collage material to create a kimono. For many years, Ms. Matzger has been intrigued by the organic quality of used coffee filters; their naturally subdued and earth toned colors, the arbitrary patterns of the coffee stains and their recyclable elements. With an artistic eye and her creative talent, she transforms mundane coffee filters using a paint brush, needle and thread, and a photocopy machine. The result is a stunning kimono; each one different with a unique shape, style and tone.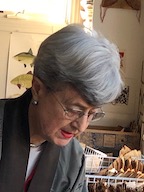 Lucia Matzger is a textile artist who grew up in the Netherlands and now resides in Berkeley. Her art reflects her interests in textile and design. It has been shown in galleries throughout the Bay Area. She has shared the story of her kimonos with art groups, including the Textile Arts Council at the DeYoung.
A Zoom confirmation email with information on how to join the webinar will be sent to all registered attendees a few days before the event. Even though it is not required by Zoom, we recommend that you download and install Zoom on your computer or mobile device in advance, and set yourself up with a free account. Attendees will have a chance to participate in the Q&A with a text chat function.
Registration Policies
The Society for Asian Art's cancellation policy requires at least one week's advance written notice in order to receive a refund of registration fees. This excludes our Travel programs, which have separate cancellation policies, as well as any programs where a specific refund policy is stated on the event page. Your fees will be returned to you through a check in the mail. To cancel, please contact us.
For programs located within the Asian Art Museum, the museum entrance fee must be paid separately and is not included with your registration fee.
Please note that by registering for a program, you are giving consent to the SAA to be photographed or videoed as a participant.