Member Events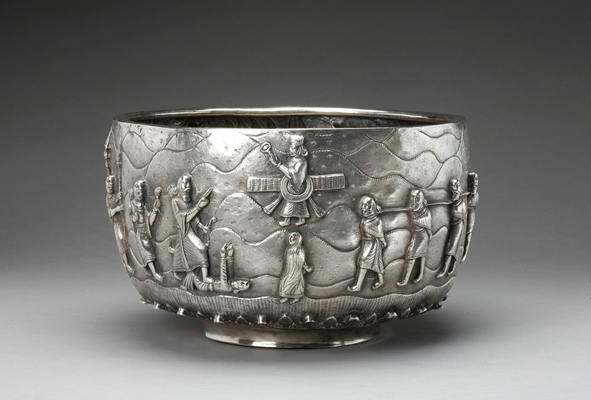 Ancient Persia Meets Colonial India on a Ceremonial Zoroastrian Bowl
Place:
Koret Education Center, Asian Art Museum
Fee:
$15 Society members; $20 non-members (after museum admission)
This talk explores the identity of India's Zoroastrians (Parsis) as it finds expression in their art and architectural patronage. Through the lens of an intriguing late-19th century silver bowl depicting ancient Achaemenid and Sasanian period rock reliefs, this talk explores why Indian Parsis articulated their distinctive religious and cultural identity through pre-Islamic Persian imagery and how the selected scenes came to be represented with fairly high accuracy on this bowl. Findings reveal interconnections—through the agencies of individuals and cultural exchanges linked by land and sea routes—between ancient Persia, colonial Bombay, and Qajar Iran.
Qamar Adamjee has been the Associate Curator of Indian and Islamic Art at the Asian Art Museum in San Francisco since 2009. She received her PhD from New York University's Institute of Fine Arts and was at The Metropolitan Museum of Art's Islamic art department before coming to the Asian. An arts of the book person at heart, Qamar has worked on diverse subjects including Islamic, Hindu and Sikh art; medieval Indian paintings and sculpture; 19th-century photography, painting, and prints; and contemporary art from South Asia and its diaspora. Her research interests lie in artworks produced at the confluence of different cultural traditions to explore the artistic and intellectual worlds of the people who made or used them.
Registration Policies
The Society for Asian Art's cancellation policy requires at least one week's advance written notice in order to receive a refund of registration fees. This excludes our Travel programs, which have separate cancellation policies, as well as any programs where a specific refund policy is stated on the event page. Your fees will be returned to you through a check in the mail. To cancel, please contact us.
For programs located within the Asian Art Museum, the museum entrance fee must be paid separately and is not included with your registration fee.
Please note that by registering for a program, you are giving consent to the SAA to be photographed or videoed as a participant.