Member Events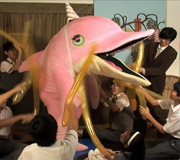 Adrian Wong - Installation Artist and Phantoms' Geomancy Consultant
Fee:
$15 (after Museum admission), Internet sales are closed. Please call for a reservation: 415-581-3701
In this lecture Adrian Wong, the entertaining and articulate installation artist, will discuss his art projects plus his current work with Feng Shui practitioners for the upcoming Phantoms of Asia exhibit.
In addition to discussing his installation in the Phantoms exhibit, he will discuss how his installation, videos and sculptures draw from varied subjects and explore the intricacies of his relationship to his environment - experientially, historically, culturally - through the filter of fantastical or fictionalized narratives. His talk may include such recent exhibits as "Troglodyte Sees the Light: A Passion for Creation" for the Louis Vuitton Foundation and works shown at the Hong Kong Sculpture Biennial.
Adrian Wong has a Masters in Psychology from Stanford and an MFA from Yale.  He splits his time between Hong Kong (where he is director of an art consultancy and an independent production studio) and Los Angeles (where he teaches sculpture and critical theory at UCLA). He is also currently posted as an assistant professor at Virginia Commonwealth University for the 2011-12 academic year.