Study Groups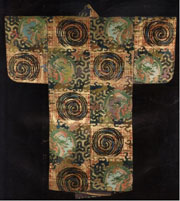 Traditional Japanese Costumes and Textiles With Alan Kennedy
Fee:
$45 Society members, $55 non-members (after Museum admission), includes lunch. Online registration is closed but limited tickets may be available at the door.
The workshop will focus on three types of Japanese costumes of the Edo period (1615 - 1868). Known in Japanese as kosode (forerunner of the kimono), shôzoku (costumes for Noh theatre), and kesa (Buddhist monk's mantle), these garments come from the worlds of fashion, theater, and religion. Such costumes represent the height of creativity in design and in luxury textile production of the period.
Besides an art historical approach to the costumes, Alan Kennedy will examine textile techniques, design motifs, and pictorial representations of costumes in paintings, prints, and sculpture. This will be a 'hands-on' workshop (gloves to be provided), as actual Edo period costumes will be available in order to better understand and appreciate this important Japanese art form.
Alan Kennedy is an Asian art specialist with a focus on the textiles and paintings of Japan and China. He has contributed articles to museum exhibition catalogues, scholarly journals, art magazines, and encyclopedias, and lectures regularly in the U.S., Europe, and Asia. He has 40 years of experience as an art dealer, and his clients include museums and collectors from across the globe.
Registration Policies
The Society for Asian Art's cancellation policy requires at least one week's advance written notice in order to receive a refund of registration fees. This excludes our Travel programs, which have separate cancellation policies, as well as any programs where a specific refund policy is stated on the event page. Your fees will be returned to you through a check in the mail. To cancel, please contact us.
For programs located within the Asian Art Museum, the museum entrance fee must be paid separately and is not included with your registration fee.
Please note that by registering for a program, you are giving consent to the SAA to be photographed or videoed as a participant.