Member Events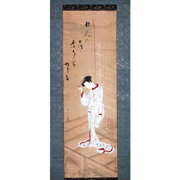 What Floated in the 'Floating World' With Timon Screech
Fee:
$15 Society members, $20 non-members (after Museum admission). This event is full, but limited tickets may be available at the door.
Japanese art of the 'floating world' (ukiyo-e) has enjoyed an international reputation since it was celebrated by the Impressionists as an alternative to European academic hierarchies. However, what was this 'floating world'? For people living in early-modern Edo, where the images were produced, how did this 'floating' consciousness fit into the structure of their normal fixed lives? This talk will introduce ukiyo-e and set it in its historical and political context, with images from some excellent collections of ukiyo-e.
Timon Screech is a professor of art history at SOAS (School of Oriental and African Studies) at the University of London, specializing in the art and culture of the Edo period in Japan. He received a BA from Oxford and a PhD from Harvard and has been a visiting professor at highly regarded universities in the U.S. and Japan in addition to teaching at SOAS. He has published widely in both English and Japanese, with his most recent book, Obtaining Images, considered the most comprehensive introduction to the arts of the Edo period.
Registration Policies
The Society for Asian Art's cancellation policy requires at least one week's advance written notice in order to receive a refund of registration fees. This excludes our Travel programs, which have separate cancellation policies, as well as any programs where a specific refund policy is stated on the event page. Your fees will be returned to you through a check in the mail. To cancel, please contact us.
For programs located within the Asian Art Museum, the museum entrance fee must be paid separately and is not included with your registration fee.
Please note that by registering for a program, you are giving consent to the SAA to be photographed or videoed as a participant.