Member Events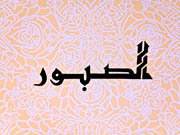 Untold – The Story of Prophet Muhammad's Wives and Daughter Fatima
Fee:
$15 Society members, $20 non-members (after Museum admission). Online ticketing is no longer available, but limited tickets may be available at the door.
This talk will bring to life the women around the Prophet Muhammad. Western history neglected to tell us stories about Khadija, his wife of 25 years, or mention that she was a successful businesswoman. Why is it hard to find a book in English on Fatima, their daughter, who is as famous as Mary, mother of Jesus? We know almost nothing of his Jewish wives, or the Christian mother of his son, Ibrahim. Discover these nearly forgotten women through these stories and poems distilled from 12 years of research.
Tamam Kahn is a poet and author of Untold: A History of the Wives of Prophet Muhammad, winner of an International Book Award, 2011. In 2009 she was invited by the Royal Ministry of Morocco to read her poetry in Marrakesh. She is presently collaborating with Islamic scholar Dr. Arthur Buehler on a book about Fatima, the daughter of Prophet Muhammad.
Note: Your registration for this event is consent to be photographed or videoed as a participant for SAA publicity purposes.