Member Events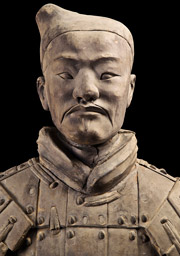 The Terracotta Warriors - New Directions
Place:
Moved to Larger venue: Samsung Hall
Fee:
$15 (after Museum admission) Online reservations are closed. You may pay the fees at the door.
Due to popular demand we have moved the lecture to our larger venue, Samsung Hall! So there is plenty of space for everyone.
Although it will soon be 40 years since the Terracotta Army from the Qin Dynasty was 'discovered,' new findings continue to be reported and alternative interpretations suggested. Additional archaeological findings, advanced conservation techniques and new perspectives are among the many ideas which will be discussed in this lecture to supplement what is already known about these findings, which are considered one of the wonders of the world. This is a great way to prepare for the Terracotta Warriors Exhibition opening at the Asian in late February.
Albert Dien is Professor Emeritus at Stanford University. A professor of Chinese History for many years, he still keeps an active schedule of research and speaking engagements. He is co-editor of a work in progress, The Cambridge History of China, volume two: The Six Dynasties. His primary field of research is the Early Medieval Period in Chinese history.
Registration Policies
The Society for Asian Art's cancellation policy requires at least one week's advance written notice in order to receive a refund of registration fees. This excludes our Travel programs, which have separate cancellation policies, as well as any programs where a specific refund policy is stated on the event page. Your fees will be returned to you through a check in the mail. To cancel, please contact us.
For programs located within the Asian Art Museum, the museum entrance fee must be paid separately and is not included with your registration fee.
Please note that by registering for a program, you are giving consent to the SAA to be photographed or videoed as a participant.