Member Events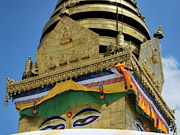 Renewing Tradition & Form: Swayambhu – An Iconic Buddhist Monument
Fee:
$15 Society members, $20 non-members (after Museum admission)
The Swayambhu Stupa is one of the great Buddhist monuments of the world and a UNESCO World Heritage Monument in the Kathmandu Valley. Its form embodies the rich cultural heritage of the area and the diverse ways they come together in the art and architecture of Nepal. Focusing on the 15th renovation of this stupa from 2008 to 2010, this talk will consider the ways in which the project engaged the continuing religious and artistic traditions of the area.
Padma Maitland is a PhD student in Architecture and South & Southeast Asian studies at UC Berkeley and has a Masters in Architecture from Princeton University. From 2008-2010 he was the Assistant Art Director for the Swayambhu Renovation Project in Kathmandu and has co-edited a commemorative volume about this project.
Registration Policies
The Society for Asian Art's cancellation policy requires at least one week's advance written notice in order to receive a refund of registration fees. This excludes our Travel programs, which have separate cancellation policies, as well as any programs where a specific refund policy is stated on the event page. Your fees will be returned to you through a check in the mail. To cancel, please contact us.
For programs located within the Asian Art Museum, the museum entrance fee must be paid separately and is not included with your registration fee.
Please note that by registering for a program, you are giving consent to the SAA to be photographed or videoed as a participant.