Member Events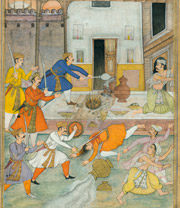 Razmnama – A Mahabharata for a Mughal King
Fee:
$15 Society members, $20 non-members (after Museum admission). Online tickets are no longer available but limited tickets may be available at the door.
The Mughal Emperor Akbar was the first king to have the great Hindu epic, the Mahabharata, translated into Persian. He had a group of scholars of Persian and Sanskrit translate the text, which was called Razmnama - the Book of War. They produced a set of four large volumes illustrated by leading masters of the Mughal court for his personal library. These volumes are now in the museum in Jaipur and have never been published or put on public view. Akbar wanted his leading nobles to have copies of the Razmnama and several illustrated and unillustrated copies are in public and private collections. Dr. Das will show images of some of the best known episodes of the Great Epic and demonstrate the way the artists of the Mughal court visualized them and presented them for their patrons.
Dr. Das was the Director of the Maharaja Sawai Man Singh II Museum, Jaipur, and a senior visiting fellow at the Victoria and Albert Museum in London, among other museums and institutions around the world. He was also a visiting scholar at the Museum of Islamic Art, Doha. The main areas of his research and publications are Mughal and Rajasthani art and culture. His latest publications are Razmnama: The Book of War, and Wonders of Nature: Ustad Mansur at the Mughal Court.
Registration Policies
The Society for Asian Art's cancellation policy requires at least one week's advance written notice in order to receive a refund of registration fees. This excludes our Travel programs, which have separate cancellation policies, as well as any programs where a specific refund policy is stated on the event page. Your fees will be returned to you through a check in the mail. To cancel, please contact us.
For programs located within the Asian Art Museum, the museum entrance fee must be paid separately and is not included with your registration fee.
Please note that your registration for this event is consent to be photographed or videoed as a participant for SAA publicity purposes.