Member Events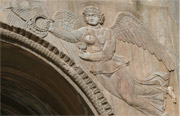 Pre-Islamic Iranian Religions
Fee:
$15 Society members, $20 non-members (after Museum admission); online sales for this program are closed. There is still room and you may pay the fees at the door.
As an important feature of the history of religious traditions, the history of Iranian religious beliefs and its influences are presented from pre-historic times to the advent of Islam. Included are Zoroastrianism, Mithraism, Manicheism, and Mazdakism. Highlighted will be the trajectory of some universal concepts first introduced in Iranian religious thought and its genetic and historical relations with other major religions of the world. This lecture will be a good pre-cursor to the Arts of Asia Fall Series on Arts of the Islamic World.
Dr. Mitra Ara is Professor and Founding Director of the Persian Studies Program at San Francisco State University. She received her BA, MA, and PhD from UC Berkeley in the fields of Religious and South Asian Studies and Religions of West Asia. Her research interests include Indo-Iranian religions, cosmology, and eschatology. Dr. Ara is on the Advisors' Board of the SAA and currently teaches Iranian Religious Traditions, Persian Culture and Civilization at San Francisco State University.
Note: Your registration for this event is consent to be photographed or videoed as a participant for SAA publicity purposes.