Member Events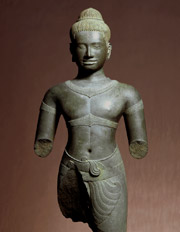 Power, Prestige and Sensuality - Gold Adornment in the Ancient Khmer World
When:
Repeats every day until Sun Sep 18 2011.
September 18, 2011
Fee:
$15 SAA members, $25 non-SAA members after Museum admission
Gold was the Khmer medium of choice for public display and personal adornment. Both ornamental and an indication of power and prestige, their use of gold reveals important insights into their religion, history, alchemy, metallurgical technology and international trade. Since there is almost no excavated Khmer gold with scientifically confirmed provenance, Dr. Bunker's discussion will focus on objects from numerous private collections. These objects remain the only unbiased record of ancient Cambodia's superb creativity in gold, the magical metal so important in Khmer culture.
The Khmer enhanced their bodies as well as sacred images with spectacular gold jewelry. For the elite, jewelry denoted power and wealth. On their slaves and animals it indicated value and their owners' prestige. During the Bayon period, It also indicated the sexual possibilities associated with the various females who wore it. Were these lovely ladies of the royal court or Tantric partners whose sexuality provided a physical metaphor for spiritual enlightenment?
Khmer inscriptions abound with mention of lavish gold ornaments presented to temples and as gifts by royalty to court elite for outstanding service. On the subject of manufacturing techniques, we have no archaeological evidence, such as tools and workshop equipment that might have been buried with an artisan. Instead, the jewelry must serve as encoded historical records revealing production methods and the socio-religious and economic issues that are seldom clarified in the little ancient Cambodian literature that remains.
Finally, it is important to note that Khmer gold represents an important goldsmith style, in many instances surprisingly original, among five or six other Southeast Asian styles including Cham, Filipino, South Chinese, Pala, and Indonesian (Java and Sumatra). This discussion will focus primarily on objects made before the present-day appearance of golden forgeries that cloud the scholarly record.
Emma Bunker received her BA degree from Bryn Mawr and has written and published extensively, specializing in Chinese and Southeast Asian art. She was the founder and chairman of the Connoisseurs' Council at the Asian Art Museum. Her current work focuses on Khmer art and culture.
Registration Policies
The Society for Asian Art's cancellation policy requires at least one week's advance written notice in order to receive a refund of registration fees. This excludes our Travel programs, which have separate cancellation policies, as well as any programs where a specific refund policy is stated on the event page. Your fees will be returned to you through a check in the mail. To cancel, please contact us.
For programs located within the Asian Art Museum, the museum entrance fee must be paid separately and is not included with your registration fee.
Please note that your registration for this event is consent to be photographed or videoed as a participant for SAA publicity purposes.