Member Events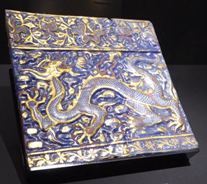 Medieval Persian Tiles Between the Field and the Museum
Time:
2:00 p.m. - 3:30 p.m. Pacific Time
Fee:
$15 per person Society members; $20 per person non-members. Advance registration must be received by the SAA by March 31, 2021.
Advance registration for this program is now closed.
Please note that this lecture will NOT be recorded. It can only be viewed on the day of the event. Please only register if you are able to attend on April 7th.
Renowned for its vivid, jewel-like colors and variety of patterns, medieval Persian tilework (ca. 1200-1350) can be found in virtually every gallery of Islamic art, including that of our own Asian Art Museum. The "tale of the tile" as it moves from monument to museum will be told by Dr. Keelan Overton, the very popular Islamic art specialist who has also led SAA trips to Iran in 2016 and 2018. Her talk will begin by discussing the function of the tiles in their original settings. She will also explore the "afterlife" of individual tiles and tilework ensembles in museums today with commentary on the current debates surrounding ethical museology. Particular attention will be paid to the Imam Zadeh Yahya at Varamin and the Sufi shrine at Natanz.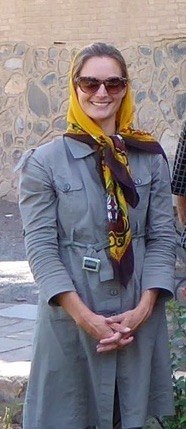 Keelan Overton is a historian of Islamic art and architecture whose most recent book is the edited volume Iran and the Deccan: Persianate Art, Culture and Talent in Circulation, 1400-1700. She has served previously as the Curator of Islamic Art at the Doris Duke Foundation for Islamic Art in Honolulu and as an Associate Curator at LACMA. An independent scholar in Santa Barbara, Dr. Overton is currently teaching at Pomona College and is working on a book on the global history of Persian tiles that has been awarded a Getty scholar grant.
A Zoom confirmation email with information on how to join the webinar will be sent to all registered attendees a few days before the event. Even though it is not required by Zoom, we recommend that you download and install Zoom on your computer or mobile device in advance, and set yourself up with a free account. Attendees will have a chance to participate in the Q&A with a text chat function.
Registration Policies
The Society for Asian Art's cancellation policy requires at least one week's advance written notice in order to receive a refund of registration fees. This excludes our Travel programs, which have separate cancellation policies, as well as any programs where a specific refund policy is stated on the event page. Your fees will be returned to you through a check in the mail. To cancel, please contact us.
For programs located within the Asian Art Museum, the museum entrance fee must be paid separately and is not included with your registration fee.
Please note that by registering for a program, you are giving consent to the SAA to be photographed or videoed as a participant.