Member Events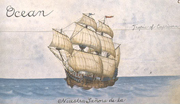 The Manila Galleon – Concepcion With Bill Mathers and Henry Parker
Instructor:
Bill Mathers and Henry Parker
Fee:
$15 Society members, $20 non-members (after Museum admission). Online tickets are no longer available but tickets may be purchased at the door.
The Spanish galleon Concepcion was wrecked on the reefs of Saipan in 1638 and 'found' again in 1987 by a group of marine archaeologists. William Mathers and Dr. Henry Parker will speak about their archaeological recovery of this Manila Galleon which had a crew of 300 persons who lost their lives, plus untold treasures moving from Asia to Mexico. Their talk will focus on underwater excavations and the finding of sunken Asian treasures and lost galleons.
Bill and Henry were U.S. Navy Diving and Salvage officers. After a year in Vietnam Bill remained in Southeast Asia as a salvage master, working on oil tankers on fire, grounded ships, and sunken vessels. In 1986, he founded Pacific Sea Resources, Inc. to find and recover lost shipwrecks around the world. After earning a doctorate in Oceanography Henry became a professor of marine sciences. He is presently an adjunct professor at Georgetown University and a writer whose recently written bioterrorism thriller will be published by Simon and Schuster in January 2017.
Registration Policies
The Society for Asian Art's cancellation policy requires at least one week's advance written notice in order to receive a refund of registration fees. This excludes our Travel programs, which have separate cancellation policies, as well as any programs where a specific refund policy is stated on the event page. Your fees will be returned to you through a check in the mail. To cancel, please contact us.
For programs located within the Asian Art Museum, the museum entrance fee must be paid separately and is not included with your registration fee.
Please note that by registering for a program, you are giving consent to the SAA to be photographed or videoed as a participant.