Member Events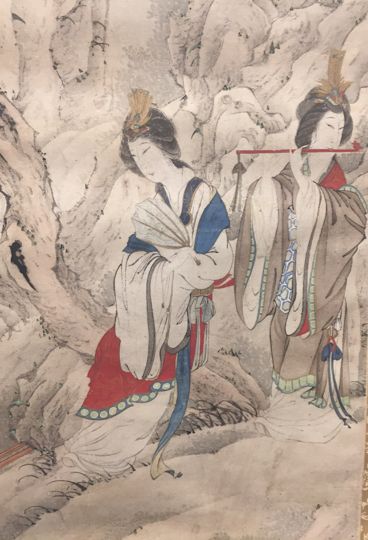 Hinges: Sakaki Hyakusen and the Birth of Nanga Painting
Place:
Berkeley Art Museum and Pacific Film Archive (BAMPFA), 2155 Center Street, Berkeley
Fee:
$15 Society members; $20 non-members
This event is sold out. If you would like to be added to the waitlist, please email the SAA. Thank you.
Hinges: Sakaki Hyakusen and the Birth of Nanga Painting is the first U.S. exhibition to focus on the art of Sakaki Hyakusen (1697-1752), the founding father of the Nanga school of painting in Japan, and his relationship to Chinese painting of the Ming and Qing dynasties. The exhibition highlights the extensive conservation of Mountain Landscape, an eighteenth-century pair of six-fold screens by Hyakusen. A gift of the late Professor Emeritus James Cahill, one of the world's leading authorities on Nanga painting, Mountain Landscape was recognized by Cahill as a masterpiece. Presenting the screens alongside traditional Chinese landscape paintings and works by Nanga school painters, the
exhibition is designed to illuminate important cross-cultural and artistic connections between Japan and China. The project will demonstrate Hyakusen's close observation of Chinese painting and his role in the transformation of Japanese painting of the eighteenth century, a hinge between two artistic traditions.
You will also have a chance to see two other exhibitions at BAMPFA: Meditation in Motion: Zen Calligraphy from the Stuart Katz Collection, and Divine Women, Divine Wisdom.
Julia M. White is Senior Curator for Asian Art at BAMPFA. She has curated numerous exhibitions at BAMPFA including the landmark exhibition, Repentant Monk: Illusion and Disillusion in the Art of Chen Hongshou, in 2017, focusing solely on the late Ming dynasty painter Chen Hongshou (1599-1652). Ms. White is a graduate of UC Berkeley History of Art department.
Registration Policies
The Society for Asian Art's cancellation policy requires at least one week's advance written notice in order to receive a refund of registration fees. This excludes our Travel programs, which have separate cancellation policies, as well as any programs where a specific refund policy is stated on the event page. Your fees will be returned to you through a check in the mail. To cancel, please contact us.
For programs located within the Asian Art Museum, the museum entrance fee must be paid separately and is not included with your registration fee.
Please note that your registration for this event is consent to be photographed or videoed as a participant for SAA publicity purposes.