Member Events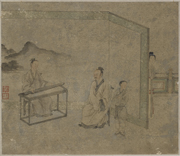 Guqin: Ancient Music of the Chinese Literati With Master David Wong
Fee:
$15 Society members, $20 non-members (after Museum admission). Online tickets are no longer available, but limited tickets may be available at the door.
David Wong will talk and perform on the Guqin, a seven-stringed instrument which is one of China's oldest string instruments and has long been associated with scholars. The music of the Qin was played in Literati Studios, Buddhist monasteries, and Taoist temples, and inspired the listeners mentally and spiritually by expressing the inner thoughts and emotions of the musician. The music of the Guqin connects past and present and gives us a glimpse into the lives of the ancient Chinese scholars.
David Wong is the Executive Director of The Tranquil Resonance Studio and brings his passion for this ancient tradition to modern audiences. David has studied with renowned Masters of this art in China and is also a Tea Master. He has performed, taught, and lectured to various audiences around the Bay area with whom he enthusiastically shares his passion for this deep-rooted tradition. He will demonstrate and play for us on the Guqin.