Member Events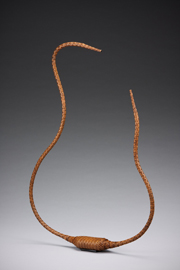 Exhibition of Japanese Bamboo Sculpture With Jiro Yonezawa
Place:
World Shibori Network Gallery, 696 Hilldale, Berkeley
Fee:
$15 Society members, $20 non-members. This event is sold out, if you would like to be added to the waitlist please call or email the SAA office.
We will visit the exhibition and meet the artist Jiro Yonezawa, a bamboo sculptural artisan. He apprenticed with the master artist Ono Makakatsu. His works have been shown in Japan, the U.S., and Europe, and are in many public and private collections. He is the recipient of many Japanese and international awards. One of his works was awarded the Lloyd Cotsen Prize, and his works have been collected by various museums in the U.S. We will have the unique opportunity of meeting him while he is visiting Berkeley and have him take us around the exhibition and talk about his work.
Registration Policies
The Society for Asian Art's cancellation policy requires at least one week's advance written notice in order to receive a refund of registration fees. This excludes our Travel programs, which have separate cancellation policies, as well as any programs where a specific refund policy is stated on the event page. Your fees will be returned to you through a check in the mail. To cancel, please contact us.
For programs located within the Asian Art Museum, the museum entrance fee must be paid separately and is not included with your registration fee.
Please note that by registering for a program, you are giving consent to the SAA to be photographed or videoed as a participant.