Member Events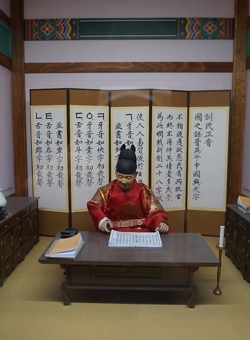 Art and Culture During the Reign of King Sejong
Place:
Koret Education Center, Asian Art Museum
Fee:
$15 Society members; $20 non-members (after museum admission)
This year marks the 600th anniversary of the beginning of King Sejong's reign. This lecture highlights several of his illustrious achievements beginning with his invention of han'geul, the phonetic Korean writing system. His other achievements to be discussed are: creation of scientific devices (rain gauge, celestial globe); enacting regulations for the Five Rites of the State; creation of Korean ceremonial court music; innovation in calendric system; development
of the moveable metal type called eulhae-ja (1455) for printing the Veritable Records of King Sejong.
Yi Song-mi, Professor Emerita of Art History at the Academy of Korean Studies, previously served as Dean of the Graduate School at the Academy. She has also served as President of the Korean Art History Association. In April of 2014, she served as a Special Lecturer at the Tang Center for East Asian Art History at Princeton University. Prof. Yi was educated at Seoul National University (BA), UC Berkeley (MA), and Princeton University (PhD).
Note: Your registration for this event is consent to be photographed or videoed as a participant for SAA publicity purposes.