Member Events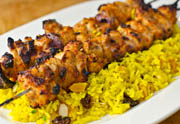 Afghan Feast
Place:
Helmand Palace, 2424 Van Ness Ave, San Francisco
Fee:
$35 Society members, $40 non-members. This event is sold out!
You are invited to savor the tastes of Afghani cuisine during the last days of our Roads of Arabia show with members of the Society. Sample  various dishes, such as Aushak, Mantou, Bolani,  Kaddoo, Kebabs, Lamb Challow & more, as we taste and learn more about them in a cozy atmosphere.
Helmand is conveniently located on Van Ness between Green & Union and street parking is available.
Registration Policies
The Society for Asian Art's cancellation policy requires at least one week's advance written notice in order to receive a refund of registration fees. This excludes our Travel programs, which have separate cancellation policies, as well as any programs where a specific refund policy is stated on the event page. Your fees will be returned to you through a check in the mail. To cancel, please contact us.
For programs located within the Asian Art Museum, the museum entrance fee must be paid separately and is not included with your registration fee.
Please note that your registration for this event is consent to be photographed or videoed as a participant for SAA publicity purposes.