Member Events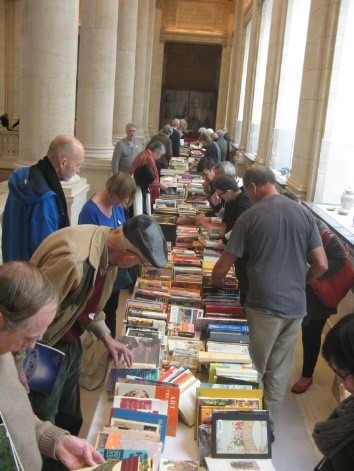 2023 Annual Book Sale
When:
Repeats every day until Sun Apr 02 2023.
March 30, 2023
Time:
Mar. 30 1:00 p.m.-8:00 p.m., Mar. 31 10:00 a.m.-5:00 p.m., Apr. 1 10:00 a.m.-5:00 p.m.& Apr. 2 10:00 a.m.-5:00 p.m.
Book lovers, mark your calendars: thousands of books – including rare collector's items – will be available at bargain prices at our Annual Book Sale in the Asian Art Museum Loggia. This year's special four-day event includes both a Thursday night, when the museum remains open until 8 p.m., and a Free First Sunday, when admission is free for all. 


Visitors are invited to browse desirable volumes on Asian art (from catalogs from past exhibitions at the museum to out-of-print gems like He Li's guide to Chinese ceramics), as well as unique publications on history, literature, religion, culture, cooking, novels, travel, textiles, jewelry and more!

Among this year's rarities:
By Imperial Command, a two-volume guide to Ch'ing painted enamels limited to 1,000 copies
a sumptuously illustrated, boxed survey of Japanese Kabuki stages
Liu Xiaodong's 2008 monograph Painting from Life (featuring text by Ai Weiwei)
a collection of albums of Indian miniature paintings
a large selection of books on Japanese woodblock prints. 


Besides adding a new treasure to your coffee table or library, your book purchase will benefit the museum's C. Laan Chun Library. To date, the Society for Asian Art Book Sale has raised more than $120,000 for the museum library, one of the most comprehensive research libraries on Asian art and culture in the country.
Registration Policies
The Society for Asian Art's cancellation policy requires at least one week's advance written notice in order to receive a refund of registration fees. This excludes our Travel programs, which have separate cancellation policies, as well as any programs where a specific refund policy is stated on the event page. Your fees will be returned to you through a check in the mail. To cancel, please contact us.
For programs located within the Asian Art Museum, the museum entrance fee must be paid separately and is not included with your registration fee.
Please note that by registering for a program, you are giving consent to the SAA to be photographed or videoed as a participant.