Member Events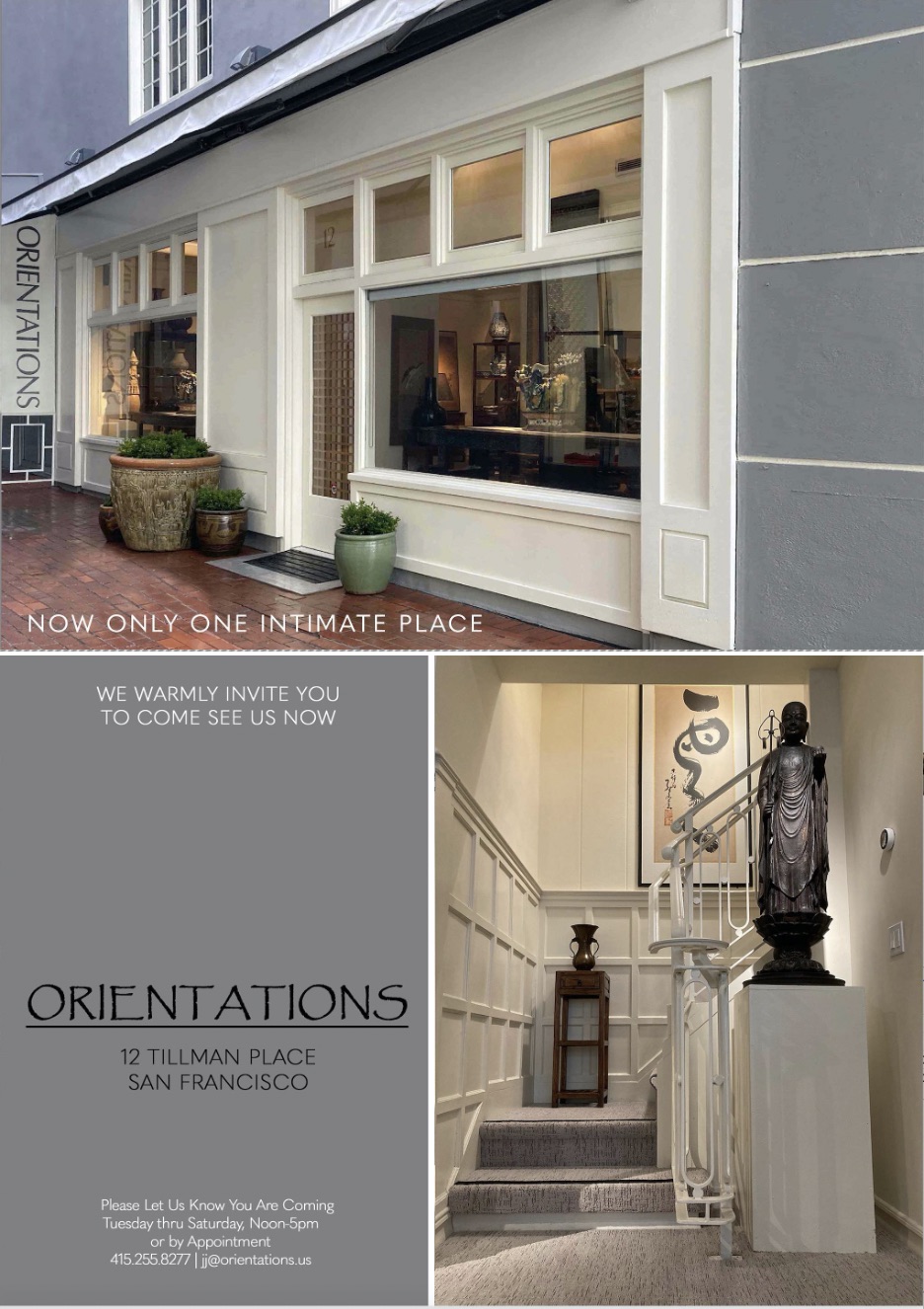 2022 Annual Holiday Party
Place:
Orientations Gallery, 12 Tillman Place, San Francisco
Fee:
$75 per person Society members; $85 per person non-members. Advance registration must be received by SAA by Dec. 2, 2022.
Once again, we are fortunate to be able to hold our Annual Holiday Party among the wonderful Asian antiques and objects on view in Orientations Gallery, generously hosted by our friends Jerry Janssen and Russ Young.

Come and enjoy wine and dim sum, while looking at some of the wonderful Asian art treasures displayed. Renowned San Francisco restaurant, Yank Sing, will be the caterer for this event. There is always something special on view which will catch your eye. Event attendees will receive a 50% discount on purchases made during the event.

Please note that this event will be both indoors and outdoors in the alley, which is covered and heated by heat lamps.
Given the persisting risks posed by COVID-19, attendance at any SAA in-person event necessarily increases your risk of exposure. If you choose to attend an event in person, you are agreeing to assume all the risks of exposure and to waive any right to make claims against the SAA, its agents, or its members for exposure. Your attendance is also your agreement to present proof of having received full vaccination against COVID-19, and that you will always wear a mask over your nose and mouth, except when actively eating or drinking. You also agree to follow any additional requirements imposed by public health authorities.
Registration Policies
The Society for Asian Art's cancellation policy requires at least one week's advance written notice in order to receive a refund of registration fees. This excludes our Travel programs, which have separate cancellation policies, as well as any programs where a specific refund policy is stated on the event page. Your fees will be returned to you through a check in the mail. To cancel, please contact us.
For programs located within the Asian Art Museum, the museum entrance fee must be paid separately and is not included with your registration fee.
Please note that by registering for a program, you are giving consent to the SAA to be photographed or videoed as a participant.