First Thursday Lecture Series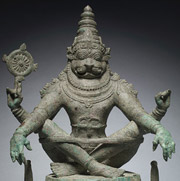 Yoga: The Art of Transformation
Fee:
This program is sold out. Please call the office to be put on the wait list. 415-581-3701
The Curators offer a special preview of this exhibition that will be at the Asian from February 21-May 25, 2014. Through masterworks of 1,000 years of Indian sculpture and paintings, the exhibition explores yoga's goals; its Hindu, as well as Buddhist, Jain, and Sufi manifestations; its means of transforming body and consciousness; and its profound philosophical foundations. It is the first exhibition to present this leitmotif of Indian visual culture and examine the roles of yogis and yoginis played in Indian society. It will feature the world's first illustrated manual of yoga postures.
Qamar Adamjee is Associate Curator of South Asian Art at the Asian Art Museum. Jeff Durham is Associate Curator of Himalayan Art at the Asian Art Museum.
Registration Policies
The Society for Asian Art's cancellation policy requires at least one week's advance written notice in order to receive a refund of registration fees. This excludes our Travel programs, which have separate cancellation policies, as well as any programs where a specific refund policy is stated on the event page. Your fees will be returned to you through a check in the mail. To cancel, please contact us.
For programs located within the Asian Art Museum, the museum entrance fee must be paid separately and is not included with your registration fee.
Please note that by registering for a program, you are giving consent to the SAA to be photographed or videoed as a participant.