First Thursday Lecture Series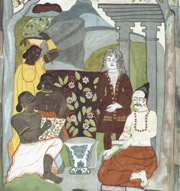 Merchants, Spies, and Sages in Precolonial India Trade
Fee:
$10 (after Museum admission); online sales for this event are closed. There is still room, so please come!
For centuries India was the nexus for the movement of goods, philosophical ideas and knowledge within the Asian and European worlds. The search for a direct sea route to the West Coast of India from Europe to acquire spices, medicines and manufactured goods was the impetus for the voyages of discovery that changed the map and history of the world in the pre-modern era. Indian botanical medicines and spices were essential for European life during that period, and along with commodities, centuries-old knowledge systems of India had been transmitted along the trade routes. This lecture will explore the philosophical, scientific, and artistic influences of India on the European world, and the international communities involved in India trade.
Anna Spudich received her PhD from Stanford University and worked as a cell biologist at Stanford for 25 years. For the last decade she has devoted her intellectual energies to her lifelong interest in the history and influences of India's centuries-old knowledge systems on the precolonial world. Anna has curated exhibitions on her work at the Cantor Center for Visual Arts at Stanford University, at the National Center for Biological Sciences, Bangalore, and at the Natural History Museum in India.
Registration Policies
The Society for Asian Art's cancellation policy requires at least one week's advance written notice in order to receive a refund of registration fees. This excludes our Travel programs, which have separate cancellation policies, as well as any programs where a specific refund policy is stated on the event page. Your fees will be returned to you through a check in the mail. To cancel, please contact us.
For programs located within the Asian Art Museum, the museum entrance fee must be paid separately and is not included with your registration fee.
Please note that by registering for a program, you are giving consent to the SAA to be photographed or videoed as a participant.