First Thursday Lecture Series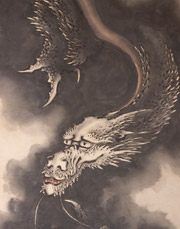 Inside In the Moment: A Curator's Perspective on the Larry Ellison Collection
Fee:
This program is sold out.
Exhibition co-curator Laura Allen offers a sneak preview of In the Moment: Japanese Art from the Larry Ellison Collection, set to open to the public on June 28th. She will answer some of the questions most commonly asked about In the Moment: What kind of artwork does Larry Ellison collect? What kind of themes will be covered in the show? And what makes this exhibition special?
Spanning over 1,100 years of Japanese history, the Ellison collection includes a prodigious array of objects: religious sculpture, hanging scrolls and folding screens, lacquer, armor and metalwork. Knowing how these objects are shown in Ellison's Japanese-style home inspired the exhibition's major theme: how awareness of change shapes the display of art in traditional Japanese settings. In the Moment provides a unique opportunity to explore the social context for Japanese art, while making a major Bay Area collection available to the public and scholars for the first time.
Laura W. Allen is Curator of Japanese Art at the Asian Art Museum of San Francisco. She earned her doctorate from UC Berkeley where she specialized in the history of Japanese painting. She has published studies of female artists in twentieth century Japan and essays on several aspects of Japanese printmaking. Coming in 2013 are contributions to two catalogues published by the Asian Art Museum, The Printer's Eye: Ukiyo-e from the Grabhorn Collection and In the Moment: Japanese Art from the Larry Ellison Collection.