First Thursday Lecture Series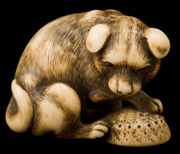 Bigger isn't Better: Japanese Netsuke - Art in Miniature
Fee:
$10 after Museum admission
Internet sales for this program have closed. You may purchase tickets at the door if spots are still available. 
A brief historical background will be given using examples of netsuke and sagemono. Netsuke are utilitarian objects that are unique to Japan and developed into miniature works of art. Originally used by a Japanese gentleman to secure a pouch or object to his obi (sash), they became a way to show a man's taste and wealth as the merchant class prospered in the 18thcentury. The range of subjects netsuke portray is extensive, including historical legends or figures still to be discovered.
The talk will include contemporary events in the "world of netsuke" and will use examples from the Asian Art Museum's collection.
Marsha Vargas Handley is the current president of the International Netsuke Society, which has an international membership of over 500 and publishes a quarterly journal. She is a Senior Accredited Member of the American Society of Appraisers in Asian Art and the owner of Xanadu Gallery on Maiden Lane in San Francisco.
Note: Your registration for this event is consent to be photographed or videoed as a participant for SAA publicity purposes.