First Thursday Lecture Series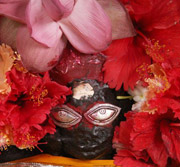 Beyond Durga: The Other Indian Goddesses of the Tooth
Fee:
$10 (after Museum admission)
In India's remote villages, fearsome martial goddesses are worshipped. The individual traditions of these "goddesses of the tooth" are overlooked because they are frequently taken for Durga, the celebrated warrior goddess who slayed the buffalo demon. This lecture will shed light on the living traditions of two tooth goddesses: the yoginis and Kamakhya. The yoginis are wild nature spirits worshipped in the northwestern Indian Himalayas of Himachal Pradesh. The yoginis are believed to be so powerful that influential gods from the villages, joined by a huge procession of followers, journey to high mountain peaks where the yoginis live. Suzanne will talk about Himachal's yoginis, their shrines and their rituals, including the procession to Skiran Peak.
Kamakhya is the primordial goddess of desire. She is worshipped in India's far northeastern state of Assam and in remote pockets of Himachal Pradesh. Her temple in Assam is an important "shakti peeth" or seat of the divine feminine creative power. We will look at the temple's features, including stunning stone remains that may depict yoginis of earlier times.
Suzanne Klotz has traveled extensively by foot in the northwestern Indian Himalayas. Her preference for the mountains and traveling by foot is motivated by a desire to leave behind the well-trodden Indian cities for regions where roads are a rarity and local gods and goddesses dominate religious life. An attorney by vocation, Suzanne studies and documents the village and tribal cultures of the northwestern Indian Himalayas.
Registration Policies
The Society for Asian Art's cancellation policy requires at least one week's advance written notice in order to receive a refund of registration fees. This excludes our Travel programs, which have separate cancellation policies, as well as any programs where a specific refund policy is stated on the event page. Your fees will be returned to you through a check in the mail. To cancel, please contact us.
For programs located within the Asian Art Museum, the museum entrance fee must be paid separately and is not included with your registration fee.
Please note that your registration for this event is consent to be photographed or videoed as a participant for SAA publicity purposes.