Maharajas: Political Theater and the Romance of the East
Symposia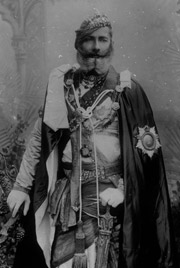 Maharajas: Political Theater and the Romance of the East
Fee:
$40, after Museum admission
There is still room in this program. Please register and pay at the door.
Our speakers will address various aspects of the maharajas' cultural patronage and its impact on Indian art and politics from the eighteenth through the early twentieth centuries. Topics will include responses to British colonialism in India, issues of identity during the British Raj, and Indian engagement with European culture.
Speakers include:
Tushara Bindu Gude, Associate Curator of South and South East Asian Art at LACMA; Barbara Metcalf, Professor Emeritus, History of South Asia, UC Davis; Thomas Metcalf, Professor Emeritus, History and Indian Studies, UC Berkeley; Sudipta Sen, Professor of History and Middle East and South Asian Studies, UC Davis
Co-sponsored by SACHI (Society for Art & Cultural Heritage of India)